Friday, April 8, 2011
Don't have a lot of time to spare today, but wanted to share some photos I took yesterday evening.

Monday, February 21, 2011
Today, I'm joining in on my first Macro Monday post.  I often check out the meme participants, but I've never actually posted one myself until today.   : ) 
Macro Mondays
are hosted by Lisa's chaos.  This is one of those well-rounded memes that encompass all sorts of blog genres and photo subjects. 
Pop on over
to check out all the other fascinating photos.
Tuesday, November 23, 2010
Hooray, Thanksgiving week is here!  It is one of our favorite holidays here at PITV...a time to get together with family, enjoy a scrumptious feast, and go out of our way to find reasons to be thankful.  What could be better? 

Wednesday, October 27, 2010
My walk through the garden today fell a bit short of idyllic and peaceful.  In fact, I witnessed a few outright nightmares!  If you are squeamish or prone to fainting, beware as you enter this post today......

Wednesday, October 20, 2010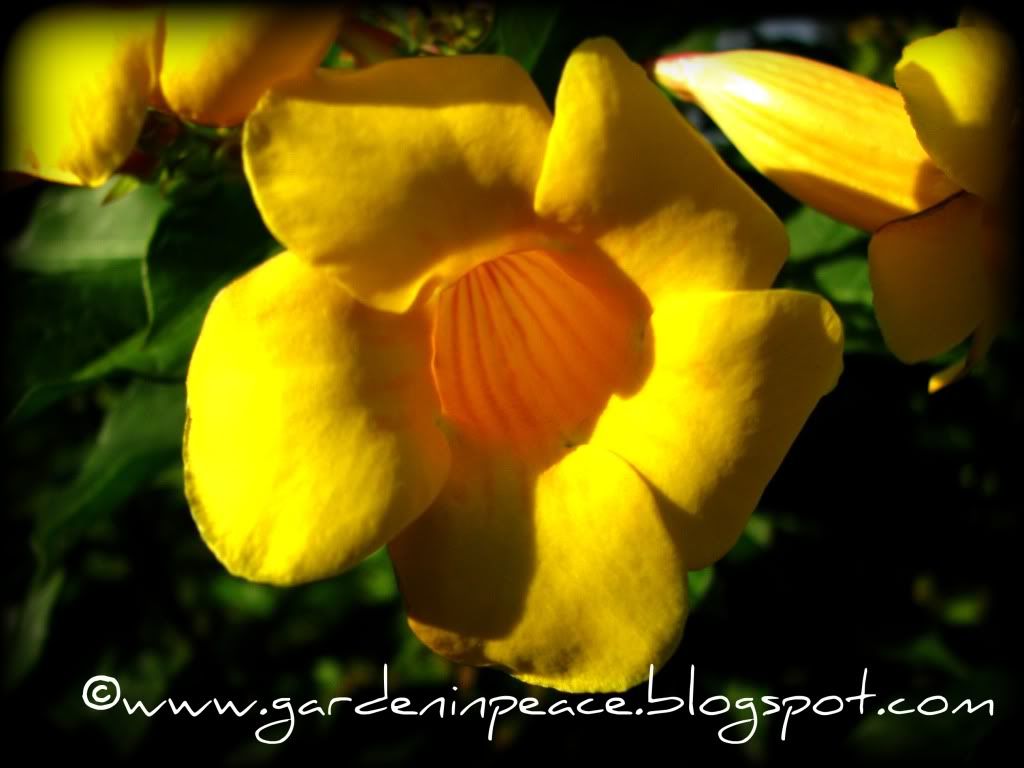 Wednesday, September 29, 2010
I really have far too much to do this week and am really feeling that Wednesday "hump day," so I have no business spending time in the garden or posting on this blog.  But you know, I must have a quick meander through the garden.  So much is going on! 

Wednesday, August 25, 2010
Three inches of rain in four days!  Woohoo!  Two days in a row with highs below 90!  How great is that!  You certainly won't hear me wishing summer away.  Surely everyone agrees that these long stretches of daylight are awesome.  I'm trying to enjoy every moment I can.  The skin-splitting, bone-throbbing, dim, dark days of winter will be with us soon enough, to be followed by a brutally hot, dry spring.  I'll take a Florida summer anyday!

Wednesday, August 18, 2010
I decided today to head out on a swamp trek to visit my river again.  For those who don't know, Florida's Peace River is just a skip and a holler from my house, and it was the inspiration behind my blog's name.  I really don't get down to the water enough, which is shameful.  Today, I wandered out with high hopes of doing some birdwatching and maybe even some gatorwatching.  Come, walk with me, and visit my little piece of the world.

Tuesday, June 22, 2010
The past week has pretty much whizzed by, and I'm afraid I hardly paused long enough to soak it all in. 

Thursday, June 3, 2010
This past weekend, the family made a mad push to finish the work at son's house/property, which I call Six Acres.  We worked pretty much nonstop through daylight hours from Friday to Monday.   Of course, there's still much to be done.  As my husband always wisely puts it, "It is what it is."    

Friday, January 15, 2010
My garden has been visited by an alien!
Looking like something straight out of a
Star Trek
or
Doctor Who
episode, I can't help but think the
Spiny Orb Weaver
would be great inspiration for a cinematic alien. Its black-cream-and-red colors and crab-like spines give it a very creepy, unearthl
y appearance. In fact, it is very earthly and one of the South's most common spiders. It's certainly one of the most abundant spiders in my garden. Like many spiders, the female is the larger and more colorful of this species. This spider gets half of its common name from the enormous webs it weaves, usually several feet across. I often smash into these when walking around my garden. And even though I know they're harmless, I scream like a little girl every time it happens. Like most spiders, spiny orb weavers are great to have around. For not only are they cool-looking garden
aliens
, they are also terrific
predators
, helping to control the insect population and keep everything in balance. Yesterday, I encountered one of these
alien/predators
on a
Stromanthe
leaf. The red hues in the spider spines and the leaf blend together so beautifully! Jack Frost struck my stromanthes hit-or-miss this year, and I am so glad that this particular one did not get burned. What a fun photo opportunity!
The
Spiny Orb Weaver
(
Gasteracantha cancriformis
) is called a "
Crab Spider
" by most locals because of the hard carapace and protruding spines. This common name can be confusing, as there is a separate, unrelated family of crab spiders. But it does indeed resemble a crab. The spider's legs are usually hidden, curled underneath its body, making it hard to recognize as a spider at first glance. The scientific name of this species,
cancriformis
, actually means
"crab-like"
in Latin.
The legs curled up underneath the body.
What pretty colors!
Labels
4th of July
(2)
abutilons
(1)
acorn
(1)
Aechmea
(17)
agapanthus
(5)
agaves
(1)
Allamanda
(14)
Alligator
(3)
Aloe
(11)
alpinia
(2)
Amaryllis
(14)
Amazon Lilies
(6)
ambush bug
(1)
Ancient Oaks
(7)
angel's trumpet
(1)
Anhinga
(3)
anthurium
(2)
April
(3)
Areca palm
(2)
Argiope aurantia
(6)
armadillos
(1)
assassin bugs
(2)
August
(4)
Azaleas
(12)
Bald Cypress
(5)
bamboo muhly grass
(1)
Banana Shrub
(6)
Bananas
(4)
Beach
(2)
Beautyberry
(6)
Bees
(8)
Begonia
(3)
Bench
(4)
Billbergia
(2)
Biltmore Estates
(1)
bird's nest
(2)
bird's nest fern
(1)
birdbath
(1)
Birds
(19)
Birds of Prey
(1)
blackberries
(5)
blackberry lilies
(6)
Blanketflowers
(15)
Blogging
(10)
blood lily
(3)
blue butterfly
(6)
blue daze
(2)
blue jay
(1)
Blue Porterweed
(6)
blue toadflax
(1)
Blue-eyed grass
(2)
blueberries
(4)
bobwhites
(1)
Bok Tower
(5)
Bottlebrush
(18)
bougainvillea
(3)
Bromeliads
(26)
brown anole
(3)
Bugs
(8)
Bulbine
(5)
bunny
(1)
Bunya Bunya
(1)
bush daisy
(4)
Butterfly
(20)
buttonbush
(2)
Caladiums
(22)
calliandra
(2)
callicarpa
(1)
Camellias
(19)
canna
(10)
cardinals
(4)
carolina jasmine
(1)
Cattleya
(2)
cereus
(1)
Cestrum
(13)
chalice vine
(1)
Cherry of the Rio Grande
(5)
childhood memories
(2)
Chinese Hat Plant
(4)
Christmas
(2)
Christmas lichen
(1)
cicada
(1)
cicada killer
(1)
citrus
(1)
clearwing hummingbird moth
(1)
Clerodendrum
(21)
cloudless giant sulfur
(1)
clouds
(2)
coleus
(2)
Color of the Week
(2)
coneflower
(1)
containers
(1)
coonties
(4)
coral honeysuckle
(2)
Coreopsis
(5)
Cracker Rose
(18)
Crape Myrtle
(14)
Crinum
(21)
Croton
(10)
curcumas
(19)
Cycad Scale
(2)
cycads
(1)
date palm
(8)
Daylilies
(21)
December
(2)
delta scarab beetle
(1)
dew
(1)
Dietes
(5)
Dogs
(7)
downy milkpea
(1)
dragonfly
(5)
Drake elm
(2)
Duranta
(4)
dutchman's pipe
(1)
Easter
(1)
elderberry
(2)
epidendrum
(1)
epiphytes
(1)
Fall
(2)
false blue ginger
(1)
February
(7)
Ferns
(12)
Festivals
(1)
Firebush
(15)
flag
(2)
flamingos
(1)
fledglings
(1)
Florida
(1)
Florida Bulbs
(1)
Florida Nature
(8)
Floss Silk Tree
(8)
Flu
(1)
foliage plants
(3)
fountain
(1)
fringe trees
(1)
Fungus
(3)
gaillardia
(4)
garden art
(1)
garden bouquet
(6)
garden path
(1)
Garden Poetry
(7)
garden song
(3)
Garden Thoughts
(10)
garden tours
(2)
Gaura
(4)
Gerbera daisies
(1)
Gerbera daisy
(5)
Giant Bird of Paradise
(5)
giant swallowtail
(4)
Gingers
(3)
Gloriosa lilies
(13)
Golden Rain Tree
(1)
gopher tortoise
(1)
grass
(1)
gray hairstreak
(1)
great blue heron
(1)
Great Egret
(3)
Green Anole
(14)
green heron
(2)
green lynx
(1)
green tree frog
(3)
grotto
(1)
gru-gru
(2)
Gulf fritillary
(7)
gulf of mexico
(1)
Guzmania
(2)
hairy indigo
(1)
Hamelia patens
(1)
hanging thief
(1)
harlequin orchids
(1)
heliconia
(9)
Hibiscus
(24)
Hollis
(1)
horses
(2)
house gecko
(1)
hoya
(2)
Hummingbird plants
(2)
Hummingbirds
(2)
hyla cinera
(3)
Hymenocallis
(7)
ibis
(2)
impatiens
(4)
Indian Hawthorn
(6)
Iris
(11)
island
(1)
ixora
(1)
Jack Frost
(3)
January
(5)
jatropha
(14)
July
(1)
june
(3)
katydid
(2)
King Sago
(5)
King's Mantle
(7)
Knockout roses
(4)
koi
(1)
lacewing larva
(1)
lady palm
(1)
lady slipper
(1)
Ladybug
(2)
Lamppost
(3)
lantana
(9)
latitude
(1)
lawn
(1)
lichen
(2)
Lily of the Nile
(7)
little blue heron
(1)
Lizards
(19)
loblolly bay
(1)
Loropetalum
(4)
Lowe's
(1)
lubbers
(3)
Magnolia 'Little Gem'
(7)
March
(2)
May
(5)
meadow beauty
(6)
medinilla
(1)
Memorial Day
(1)
Mexican Heather
(3)
Michelia alba
(1)
mist
(1)
mockingbird
(1)
Monarch
(2)
monstera deliciosa
(1)
moss
(1)
Moth
(1)
mountain laurel
(1)
mountains
(1)
muscadines
(3)
mushroom
(1)
musical notes
(1)
nandina
(1)
native plants
(5)
Neomarica
(3)
Neoregelia
(14)
Neoregelias
(8)
neoreglias
(1)
Nephila clavipes
(2)
Nikon d7000
(2)
North Carolina
(1)
Northern parula
(1)
November
(3)
Nun's Orchid
(3)
obscure bird grasshopper
(3)
October
(2)
old church
(1)
oleander caterpillar
(2)
oleander shrub
(3)
Oncidium
(1)
Orange Bird of Paradise
(2)
orange blossoms
(1)
oranges
(2)
Orchids
(17)
osteospermum
(5)
Pagophobia
(2)
Palamedes Swallowtail
(1)
Palms
(5)
papyrus
(1)
Parking Lots
(1)
Passalong Plants
(1)
Passionvine
(6)
Peace Lily
(15)
Peace River
(3)
peacock ginger
(3)
Pentas
(18)
Phalaenopsis
(3)
phasey bean
(1)
Philodendron
(13)
phlox
(1)
Photography
(16)
pine trees
(3)
Pinewood Estates
(1)
Pittosporum
(4)
Plant Combos
(4)
Plants in My Garden
(3)
plumbago
(6)
Plumeria
(6)
plumeria pudica
(1)
pokeweed
(1)
polls
(4)
polydamus swallowtail
(1)
Pomegranate
(1)
pothos
(6)
powderpuff
(14)
purple shrimp plant
(1)
Queen Emma
(2)
Quesnelia
(11)
Quotable Quotes
(35)
rabbit's foot fern
(1)
Rain
(5)
recipe
(1)
Red Maple
(11)
Reddish Egret
(2)
resurrection fern
(2)
rhododendrons
(1)
roots
(1)
Roses
(17)
Rubber plant
(3)
rudbeckia
(1)
Ruellia
(7)
salvia
(1)
sand dollar
(2)
sandpiper
(2)
Scripture
(3)
sea grapes
(1)
sea oats
(1)
seaside gentian
(1)
September
(3)
shadows
(1)
shaving brush tree
(1)
shells
(2)
Shrimp Plants
(2)
Siam Tulip
(1)
Six Acres
(8)
skinks
(1)
Sky
(4)
snakes
(1)
southern magnolia
(1)
Spanish moss
(3)
spathe
(2)
Spathoglottis
(12)
Special Themes
(4)
spicebush swallowtail
(5)
Spiders
(11)
Spiderwort
(14)
Spring
(2)
squirrel
(1)
staghorn fern
(1)
state parks
(1)
stinkbugs
(2)
stone paths
(4)
storm
(3)
Stromanthe
(12)
Summer
(5)
summer tulips
(5)
sunflowers
(5)
Sunken Gardens
(1)
sunset
(2)
swamp
(3)
swans
(1)
sweat bee
(1)
sweetbay magnolia
(1)
Swing
(12)
Tabebuia
(14)
tern
(1)
Texas Sage
(5)
textures
(2)
Thanksgiving
(1)
The Cloister
(2)
the rock
(2)
thistle
(1)
thryallis
(11)
Ti plants
(29)
Tibouchina
(6)
Tiger Swallowtail
(5)
Tillandsias
(4)
Toadflax
(1)
torenia
(1)
tree fern
(24)
tree frog
(1)
tricolored heron
(1)
Tropicals
(18)
Turtles
(2)
Valentine
(1)
vanda
(1)
Viburnums
(6)
viceroy
(2)
Victoria amazonica
(1)
Warbler
(1)
wasp
(2)
water lilies
(1)
waterfalls
(1)
wedelia
(1)
weeds
(3)
Weeping Bottlebrush
(8)
Wildflowers
(6)
Winter Interest
(5)
woodpeckers
(1)
Wordless Wednesday
(1)
Zebra longwing
(3)
Zenobia
(1)
zigzag spider
(1)
Zonal Gap
(2)
Zone 9 Winters
(19)