Firebush
aka
Hummingbird Bush, Firecracker Shrub, Mexican Firebush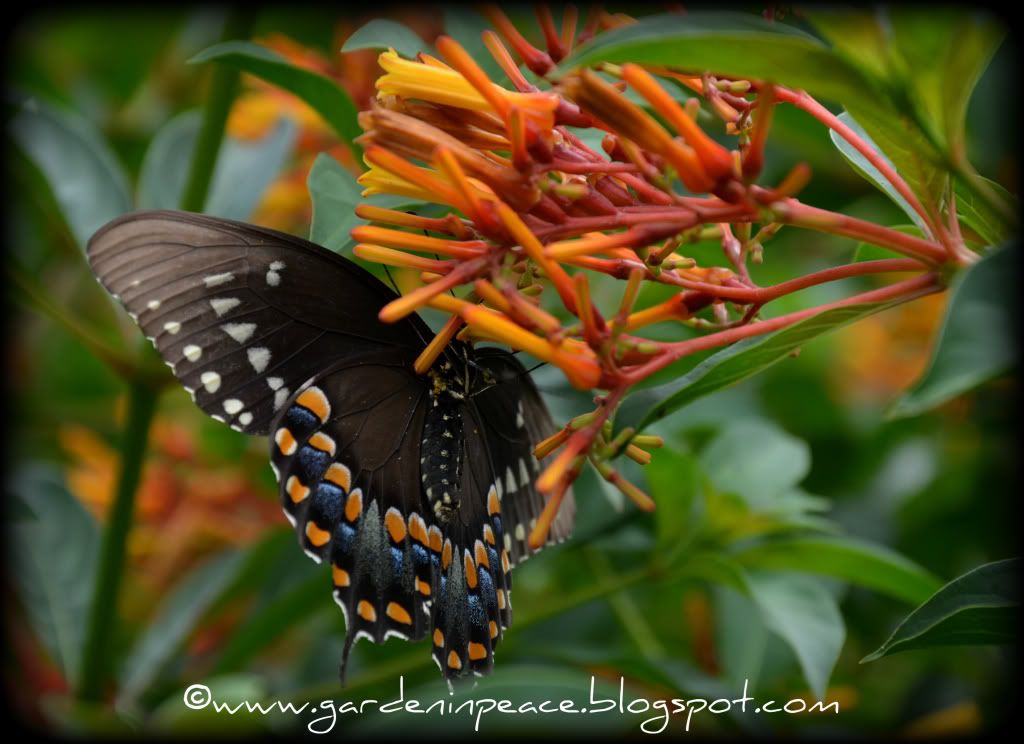 CH Zones:
9-11 (returns from roots where freezes occur)
Size:
6 to 12 feet in height and width
Cultivation:
Full sun to partial shade, but blooms best in full sun. Performs well in sandy, well-drained soil or typical garden soil. May need extra water to get established. Returns from the ground quickly in spring, once the plant is well established. Excellent performance in Florida conditions. My experience with this plant is that it is pest- and disease-free. Easily propagated by cutting or seed.
Flowers:
Tubular, golden blooms open from orange buds that are arranged on red stems in terminal clusters. Ever-blooming where freezes do not occur.
Uses:
One of the most irresistible nectar sources for hummingbirds. Use in a butterfly garden or a mixed shrub border. In late fall and winter, black berries appear, which attract songbirds. Native Americans used leaf extracts for medicinal purposes.
Origin:
Native to the Neotropics. The species Hamelia patens has hairy leaves and red blooms, unlike this variety, with glossy leaves and more yellow in the flower. There is a lot of debate about the origin of Hamelia patens var. glabra, which is sold as Hanelia patens 'Compacta.' Some sources erroneously claim that 'Compacta' hails from Africa. It is actually from the Americas, and is believed to be a naturally occurring variation of the species, originally found in Central America. Some garden writers claim it is invasive in Florida, though no "official" sources list it as such, at least as far as I can tell. It is certainly still being sold here, along with a true dwarf variety called 'Firefly.'
In my garden, I have plugged this shrub into the "Hummingbird" section of my Butterfly Garden. They happily coexist with other hummingbird favorites such as bottlebrush, aloe, and cracker roses, making for a very carefree section of the garden.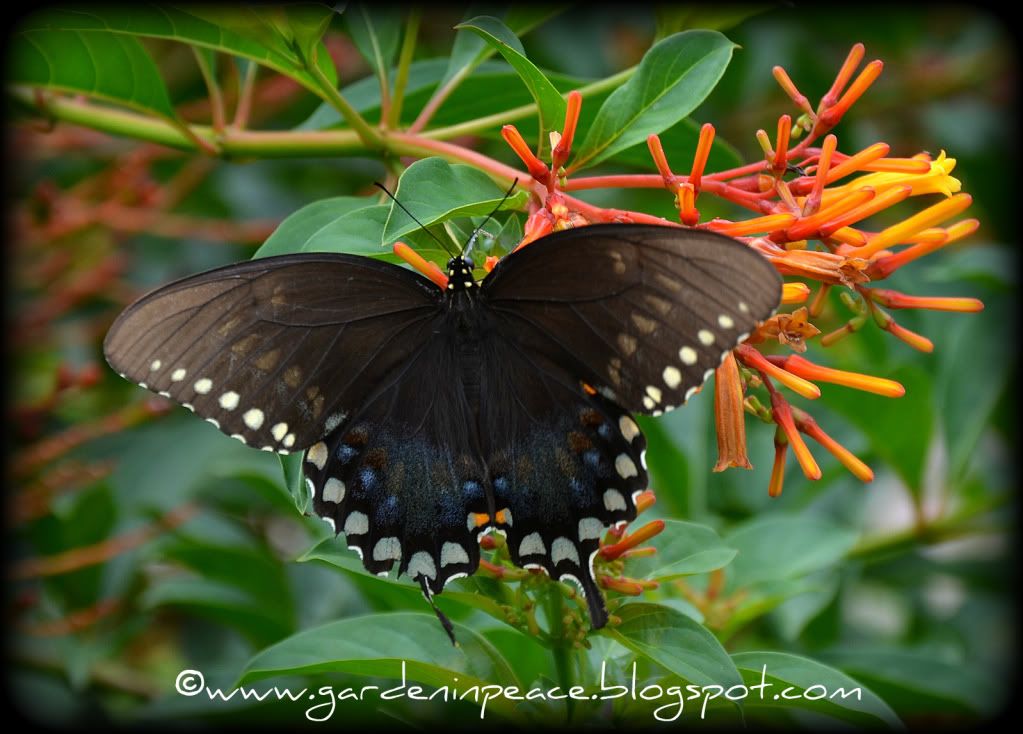 Of course, Firebush attracts far more than just hummingbirds. It is a haven for butterflies, beneficial bugs, spiders, and even snakes.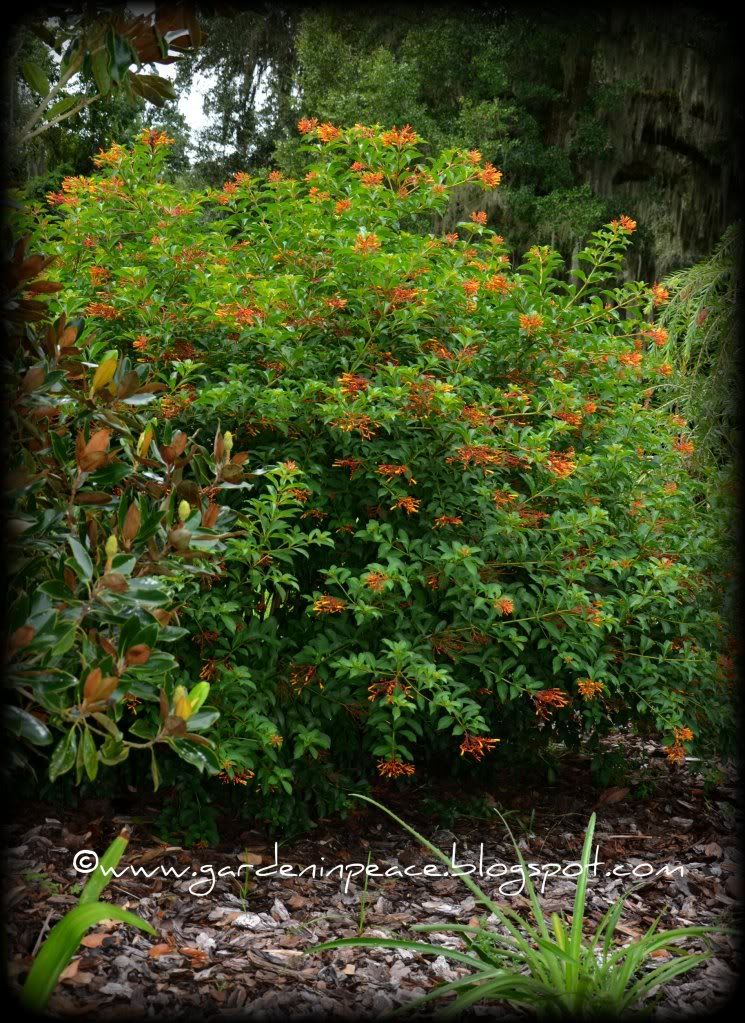 This is the larger of my two firebushes. It is currently about seven feet tall and wide. It will stay nice until our first freeze in December or January, then I will have a giant black hole for three or four months. The shocking thing is that when I bought this about five or six years ago, its nursery tag stated it would reach 2 to 4 feet. haha. That's a good one. So much for laying out a garden plan.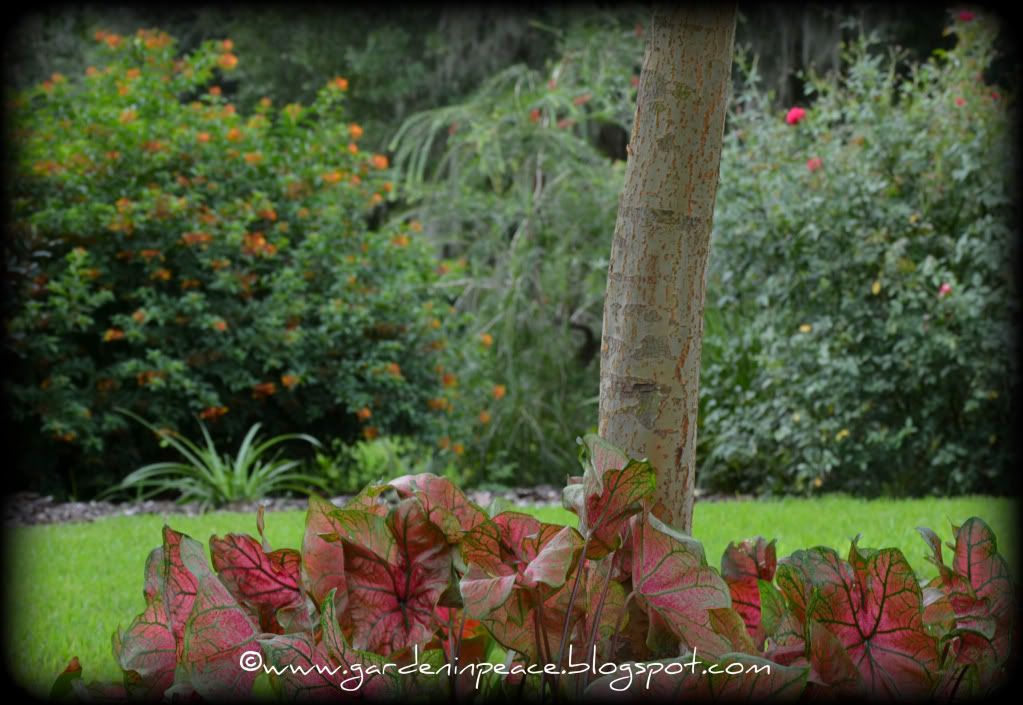 I really did have a rough time choosing the August plant of the month when I walked into the garden this morning. So many plants are at their best this time of year. But when I walked across the front lawn and my eye caught the flurry of activity over there on the Hummingbird Path, I knew instantly my choice would be Firebush. Why haven't I already designated this plant with the honor?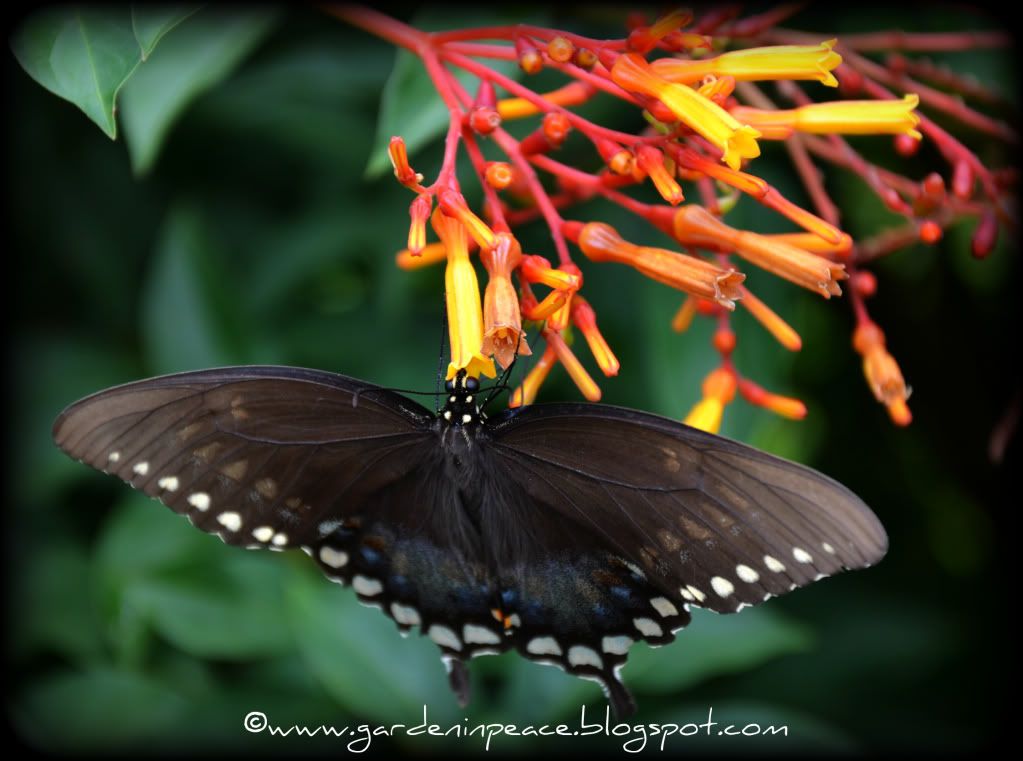 It is one of the most perfectly suited plants for our Florida climate.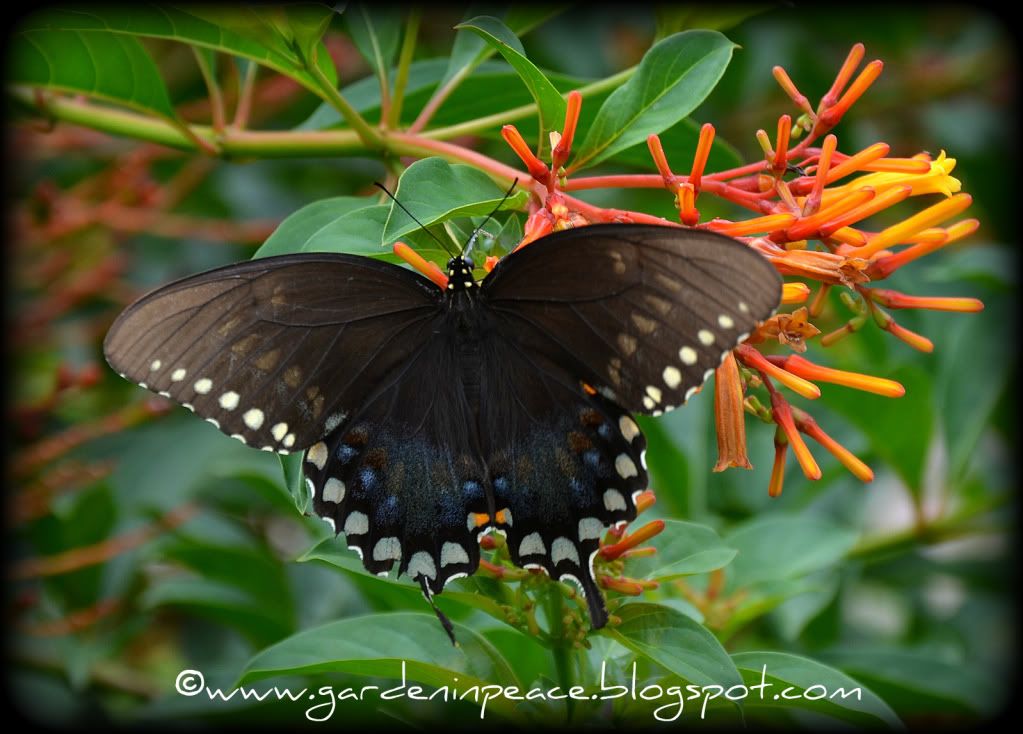 I recommend this plant or the species to anyone first starting their garden.
All text and images in this post were created for a blog called "Peace in the Valley"
All material on this website belongs to Floridagirl, unless otherwise noted.