Yes, I know we usher in the month of August today, but I feel a need to recap my July garden. After all, I barely posted to this blog at all in July, thanks to dreary health. These are indeed photos I took last Friday...just didn't have time to post them over the weekend. I tried to force myself to photograph the sunny garden, though I'm more inclined to retreat to those shady corners.
When I stepped into the garden on Friday, camera in hand, I actually had hoped to capture some butterflies in that Nikon. The beauties are surely fluttering about in droves this summer, even in the non-butterfly-garden pieces of this lot. Aren't butterflies just the best thing about summer? Yes, I know we are lucky to have them year-round in our part of the world, but they truly are prolific in midsummer. Anyway, as you will surely gather from the photos, I did not have the energy for lengthy pursuits, so we have no butterfly photos to share today.
I will share instead some of my favorite floriferous Jewels of July...sparklers for the eyes...precious gems for the spirit....blooms that shine in summer but are nowhere to be seen in the dead of winter. Oh, how glad I am that we are not sitting in January right now!!!!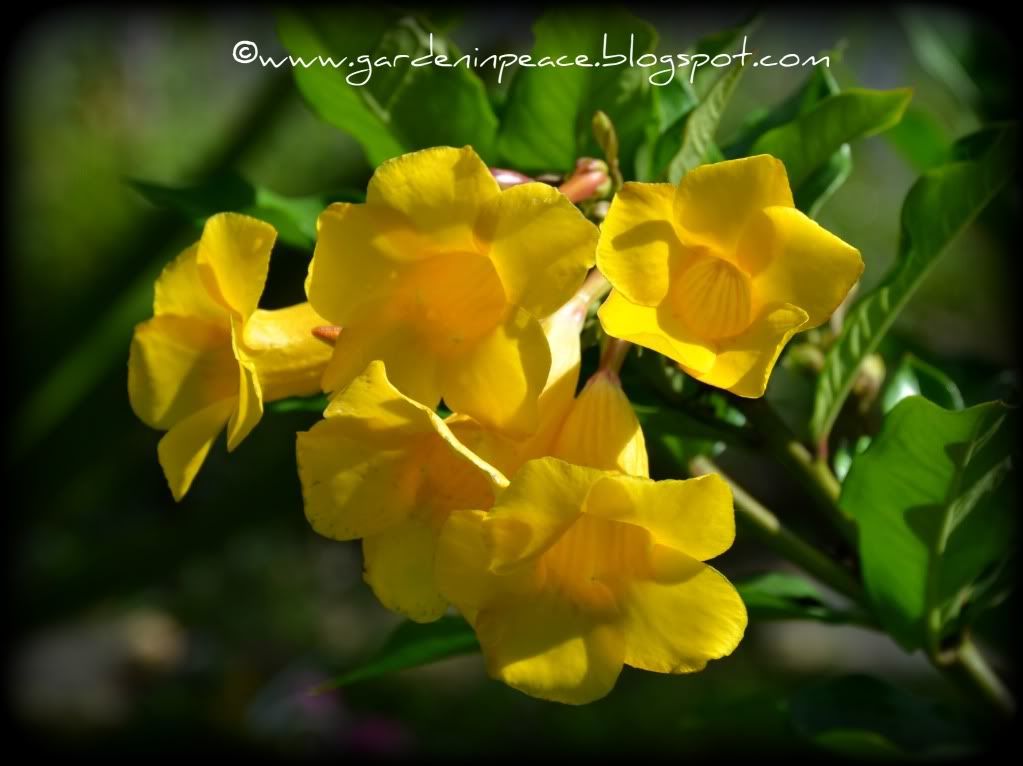 Beautiful, golden allamanda trumpets seem to glow in the summer sun. I admit, I planted the bush allamanda over six years ago with the intention of filling a stretch of space in a mixed evergreen hedge. Hmmm.... I think there was maybe one winter in all of six that these plants retained their leaves. Yes, allamanda is perhaps a bit too tropical for my Zone 9 world, but its rebound in summer certainly makes up for those winter failures.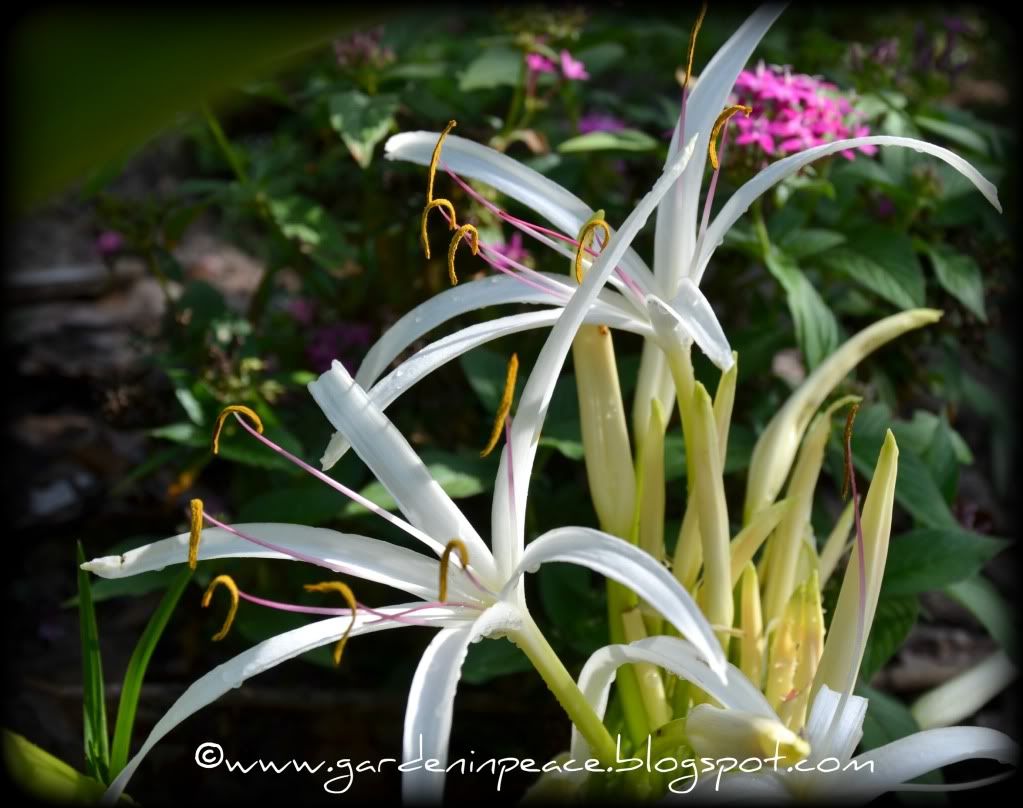 Grand Crinum Lily, with its glittery, elegant blooms, shines in the summer sun. Of course, I really prefer to visit the crinums at dusk, when the hummingbird moths find them irresistible.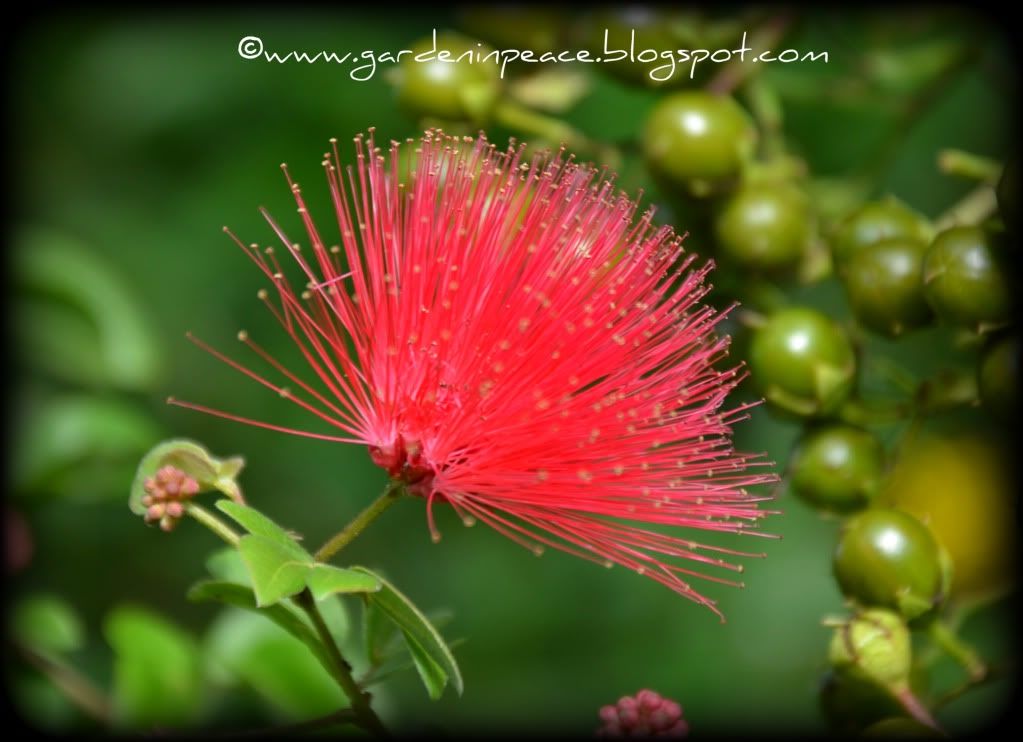 Yay for the ruby-rich powderpuff blooms! Who cares if these are tropical plants? You'd never know the difference here in midsummer, when they fit their niche just perfectly.
And Blue Porterweed adds a sapphire glow to our summer vignettes. Such a wonderfully easy plant, though I admit I'm pulling more of these "weeds" in the garden this year than ever before.
These lovely, amethyst-hued pentas caught my eye. Of course, pentas in every color float through our sunny borders, and they are one of the main reasons butterflies fill our gardens this time of year.
"Summer is the time when one sheds one's tensions with one's clothes, and the right kind of day is jeweled balm for the battered spirit. A few of those days, and you can become drunk with the belief that all's right with the world."
Yes, this battered spirit and worn-out body are soothed by a walk in the summer garden.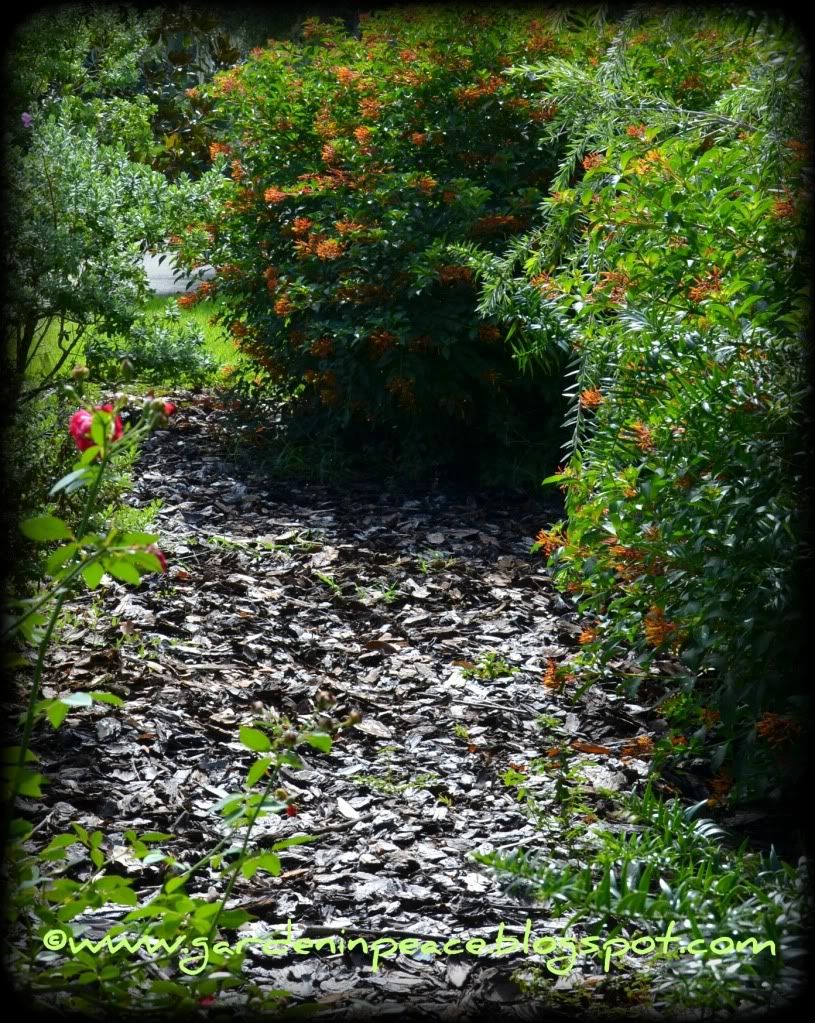 What is that (finally!) filling in the hedge in my Hummingbird Path?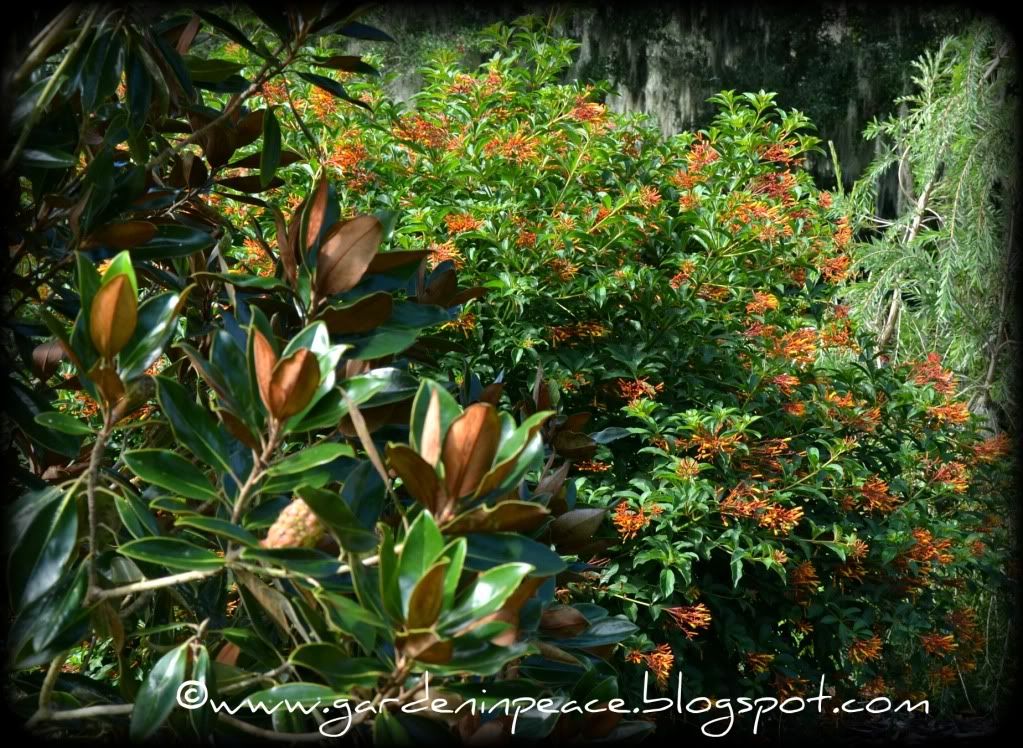 The firebushes are already over six feet tall and wide...they will only continue to grow larger the rest of the year. I don't like that these monstrous beasts get fried every winter...they leave such giant holes in the landscape. But perhaps it's for the best. These come back from the ground, and I think it forces them to stay thick and tight, without my having to attack them with hedgeclippers year-round, like the evergreen and more leggy plumbagos and cracker roses.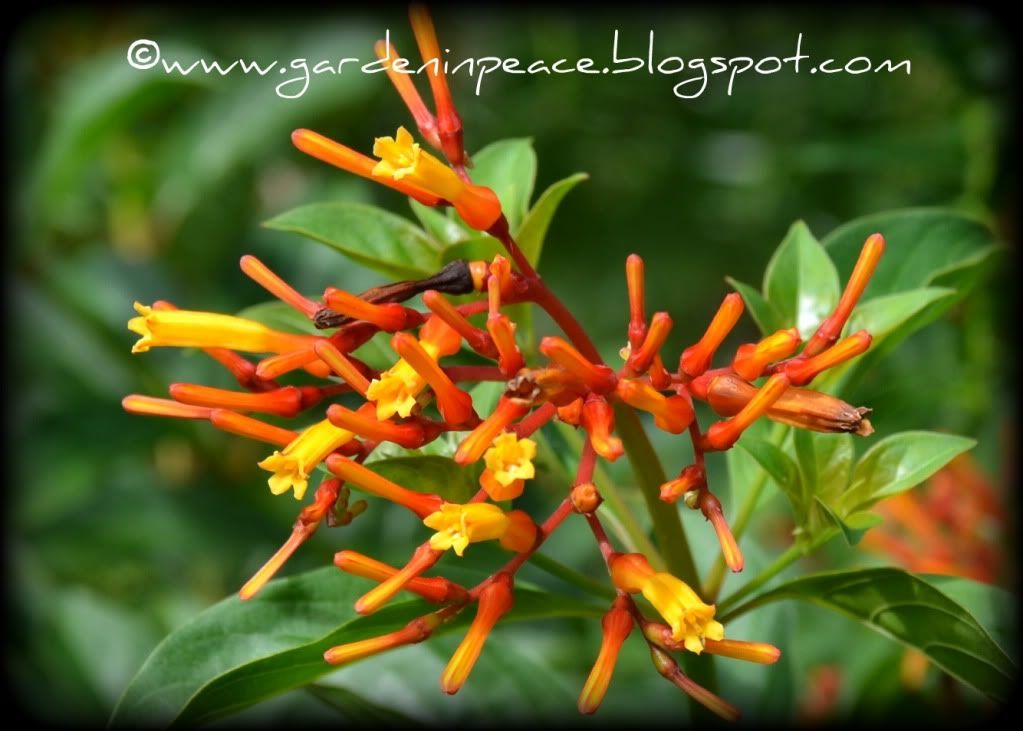 Giant winter holes or not, I will always have Hamelia jewels in my garden, as there is no plant more precious to the hummers than this.
And speaking of those cracker roses...whoa, they have really gotten out of control this summer. I still love 'em though!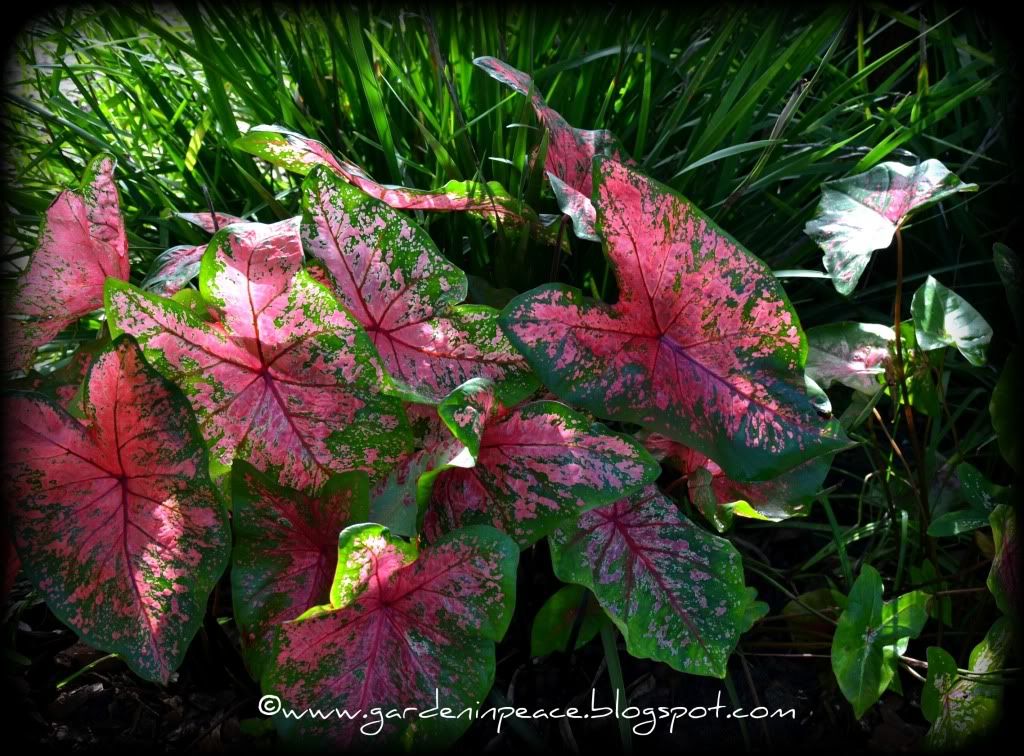 Is there any greater jewel of the Florida summer than caladiums?!! I don't really grow these in great sweeps like I see in more formal gardens, but I do have them plugged into every possible vignette of this garden. The ones pictured above were from a mixed bag, and yes, they are planted in the sunny garden. I do have a lot of deciduous trees planted on the south side, but honestly, I don't think it will ever feel shady and cool over here.
~~~
Hope you enjoyed a few glimpses of my July Jewels.
May your garden shimmer with jewels every month of the year!
~~~
All text and images in this post were created for a blog called "Peace in the Valley"
All material on this website belongs to Floridagirl, unless otherwise noted.