So I was thinkin' of a name this morning for the
hodge-podge
collection of photos I was tryin' to turn into a real,
bona fide
blogpost. Being truly in love and completely enamored with the month of
August
, the name
"August Rush"
popped into my brain. Of course, it did. But then again, I
already used that name in a post
last year. So I altered that old title a bit today, and I'm just gonna
gush
and
gush
about my wonderful August garden.
Anyway, I pulled up that 2010 post, just to see what was goin' on a year ago. What a different post I have created today! Different photos for sure...but even the garden is a bit different. Those Tibouchinas I featured....Well, we pulled up the old princess flowers this past winter (boohoo!). I didn't even realize I missed them until I saw the photos. But, yes, they did have to go. They just took too long to recover from freeze damage. Oh, and the Jatropha in that old post.... Wow, the same creature is a foot or two taller in the garden today. I would tell myself that it is because last winter was not so bad compared to the previous year.... But then I see that 'Cobra' ti plant. Oh my, it looked quite amazing in that old post. Today, in my garden, it is still struggling to regain its beauty, post frost damage. It has leaves at least, but they are dull and boring green still. Hmmm..... Jack Frost certainly has no rhyme or reason in this garden.
Enough of the rushing, now for some gushing....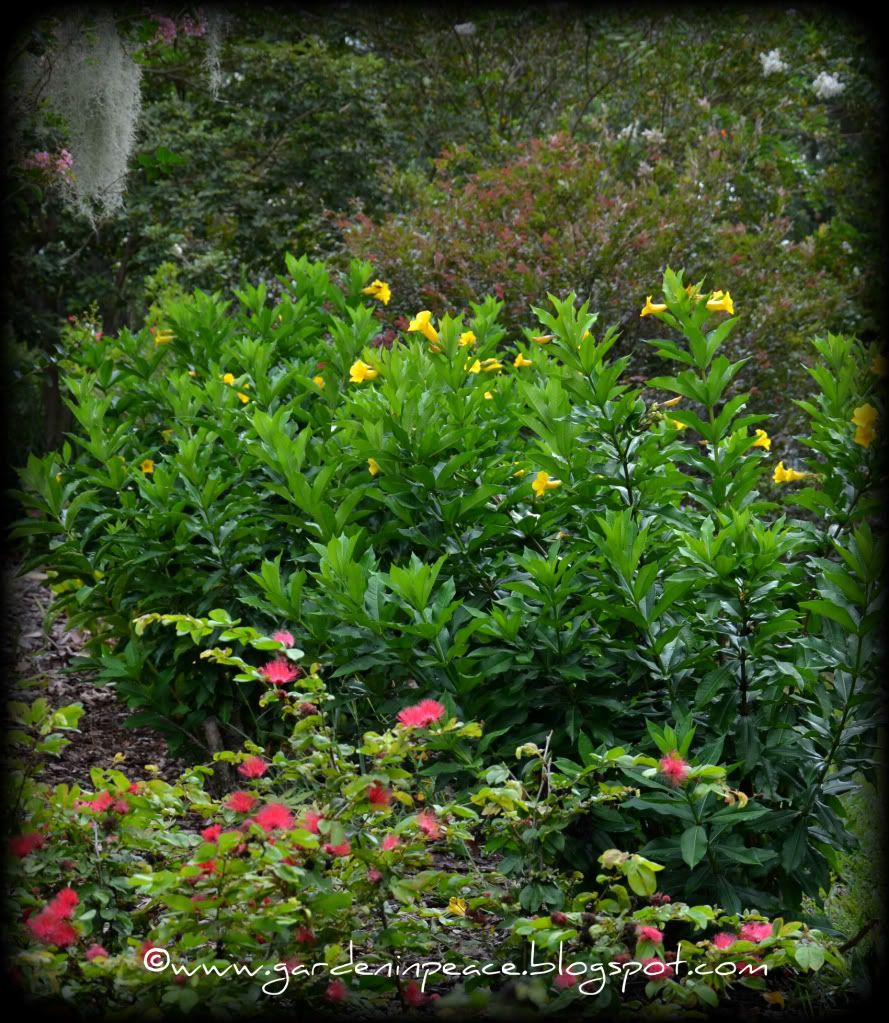 One of the greatest things about summer at PITV is the return of the Allamandas. Now, I know these do not burn back in winter everywhere. I know because I see them in local "city" landscapes where they thrive. But here at PITV, they turn completely black in winter and must return from the roots. So, yes, we are thrilled up to our eyeballs with their progress here in August!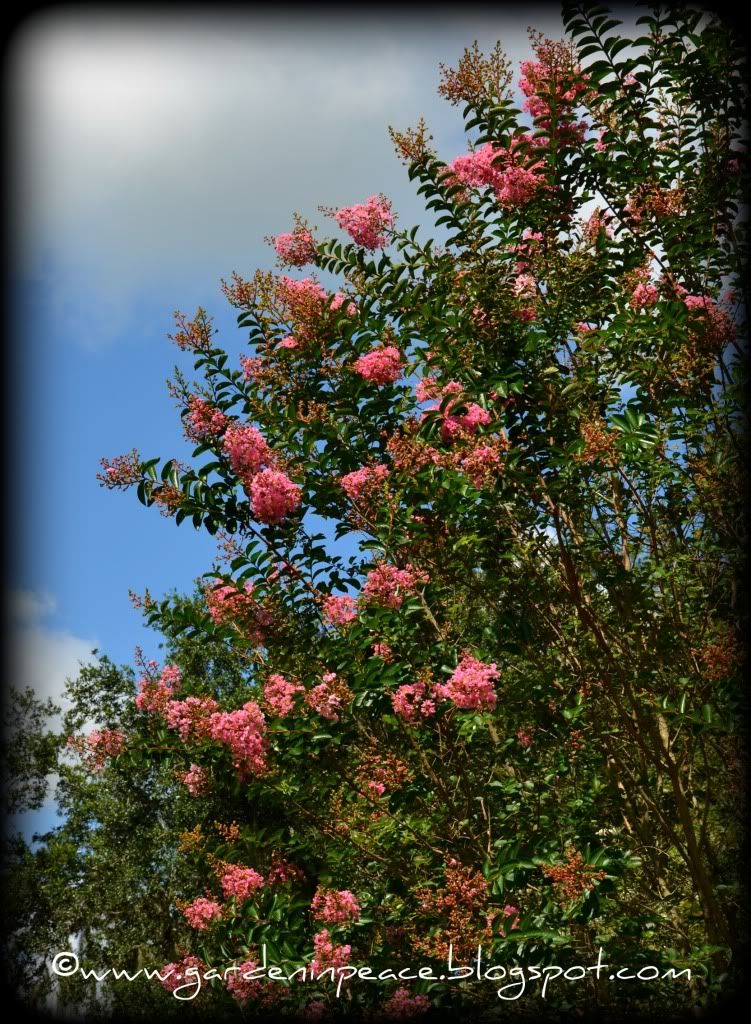 Of course, high summer is high crape myrtle season as well! What a different place this garden is when the crapes are in bloom! Pictured is 'Sioux.'
I have two 'Natchez' crapes as well, and they have grown quite enormous, as crapes go. The branches have grown so heavy with those giant bloom balls and are weeping earthward. I really don't have the heart to chop them off, so I just stoop a bit to walk under them.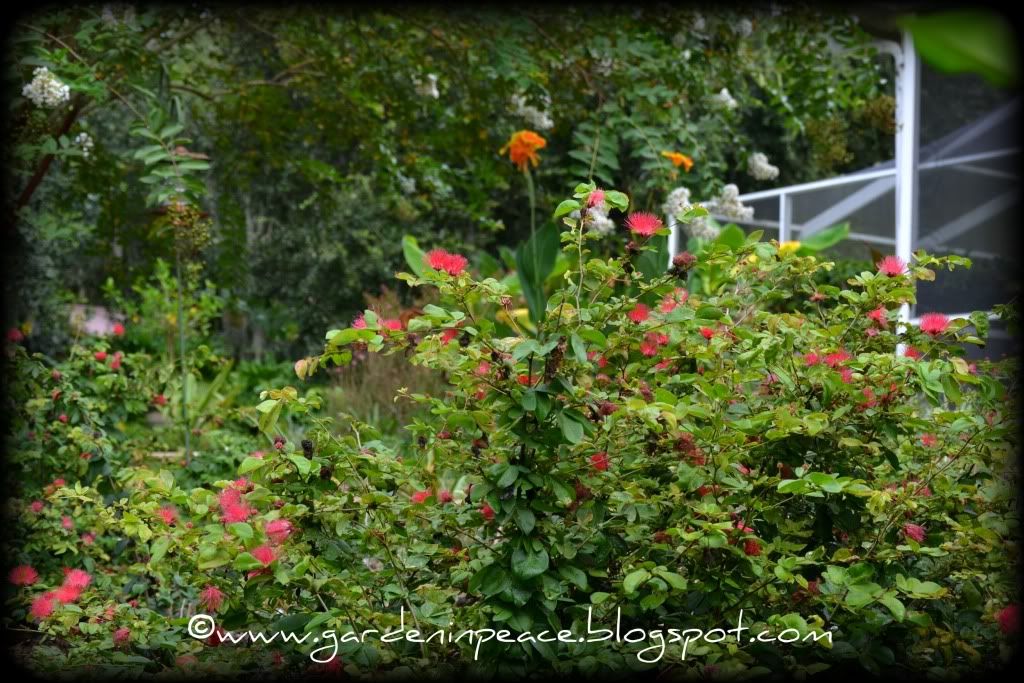 August is peak
powderpuff
season as well. I did look back and noticed that I chose the Dwarf Powderpuff as
August Plant of the Month
last year. Hmmm... I can clearly see why. Powderpuffs
love
summer!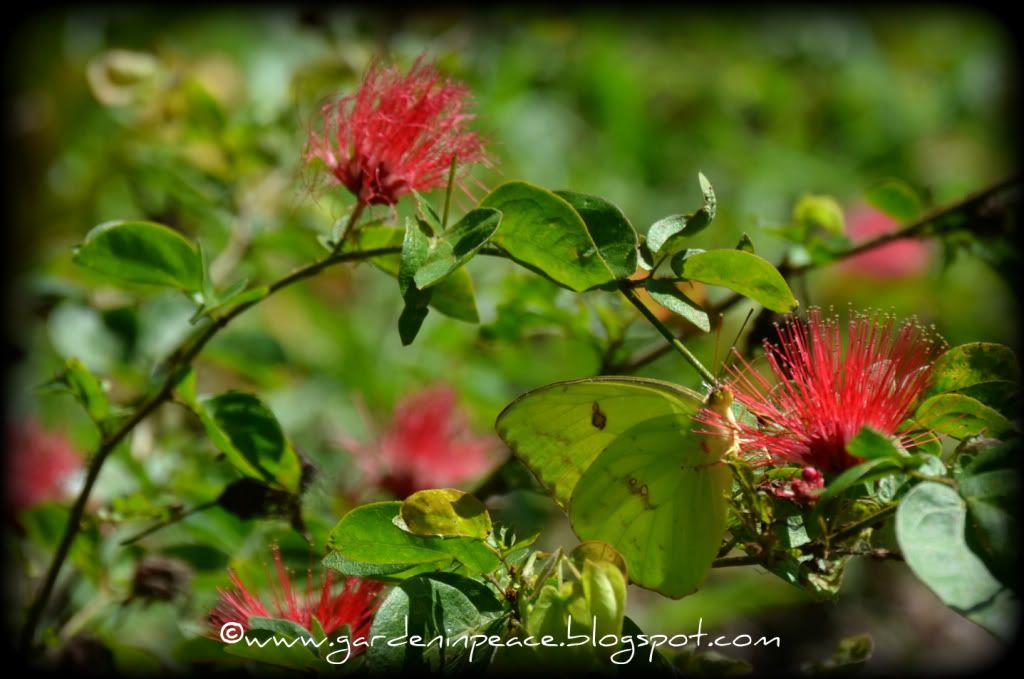 Oh, and the winged beauties of Florida love Dwarf Powderpuff as well. Can you find the camouflaged critter in this photo?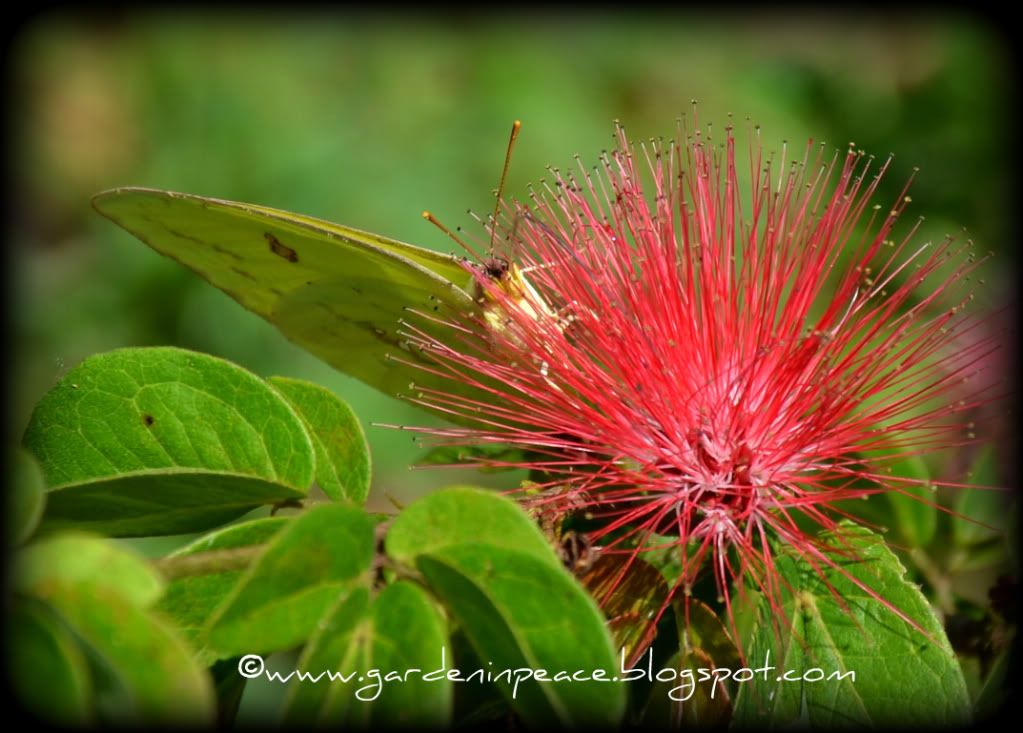 My, she is really camera-shy!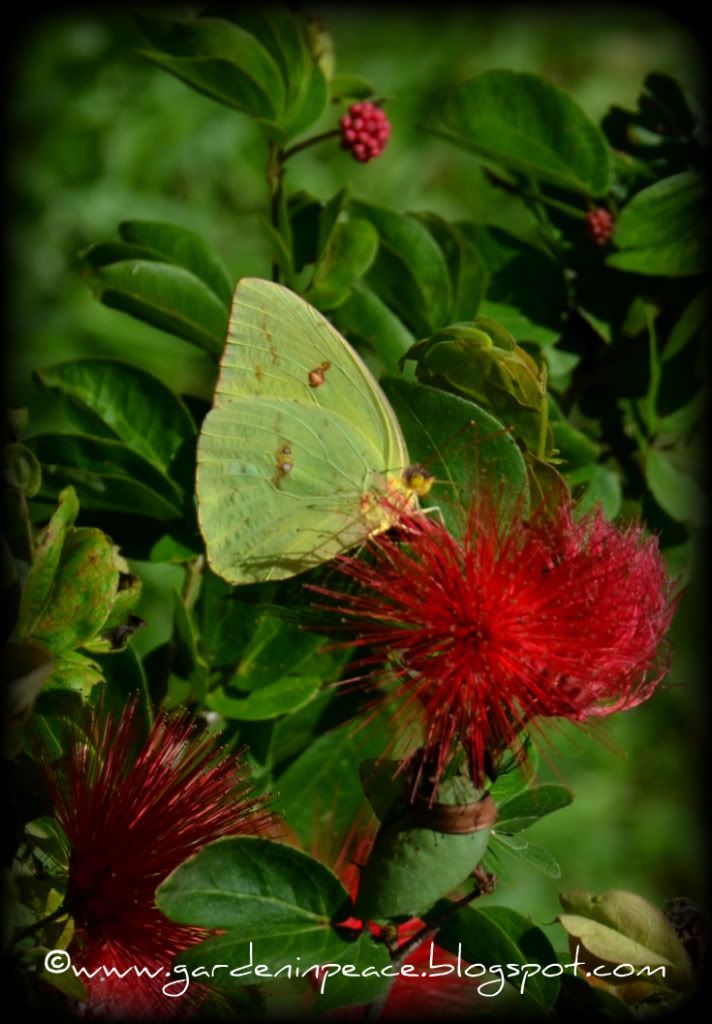 There, that's a better pose! It's a Cloudless Giant Sulfur Butterfly!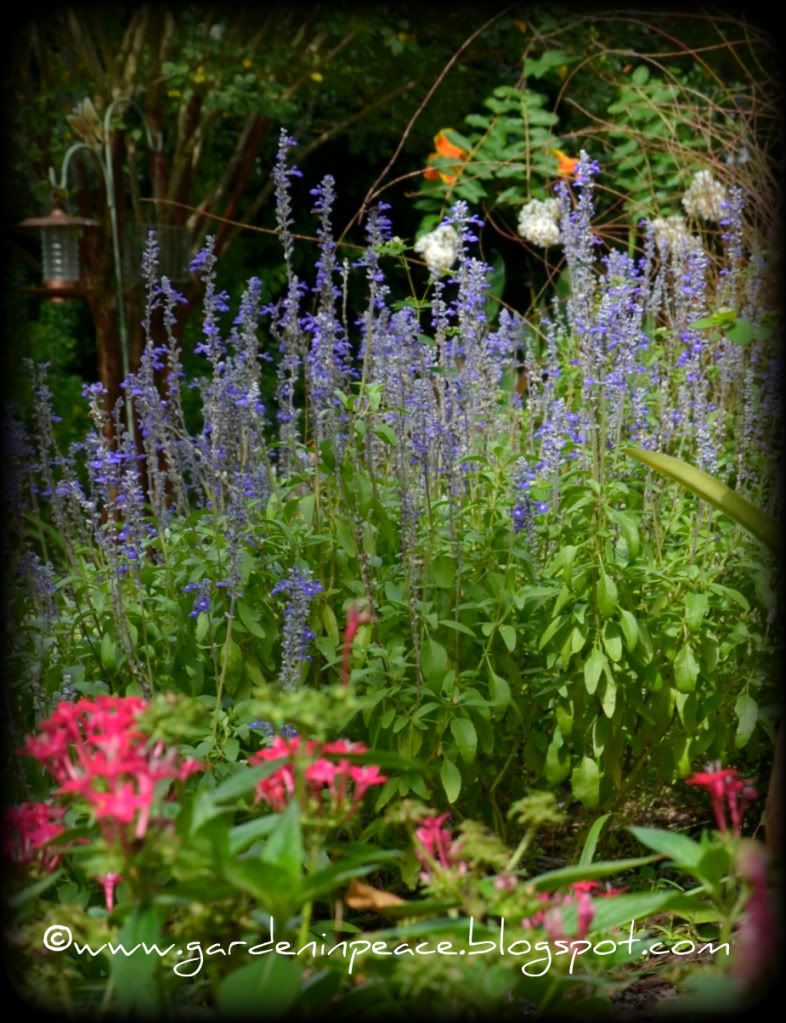 Salvia are also attracting the winged wonders.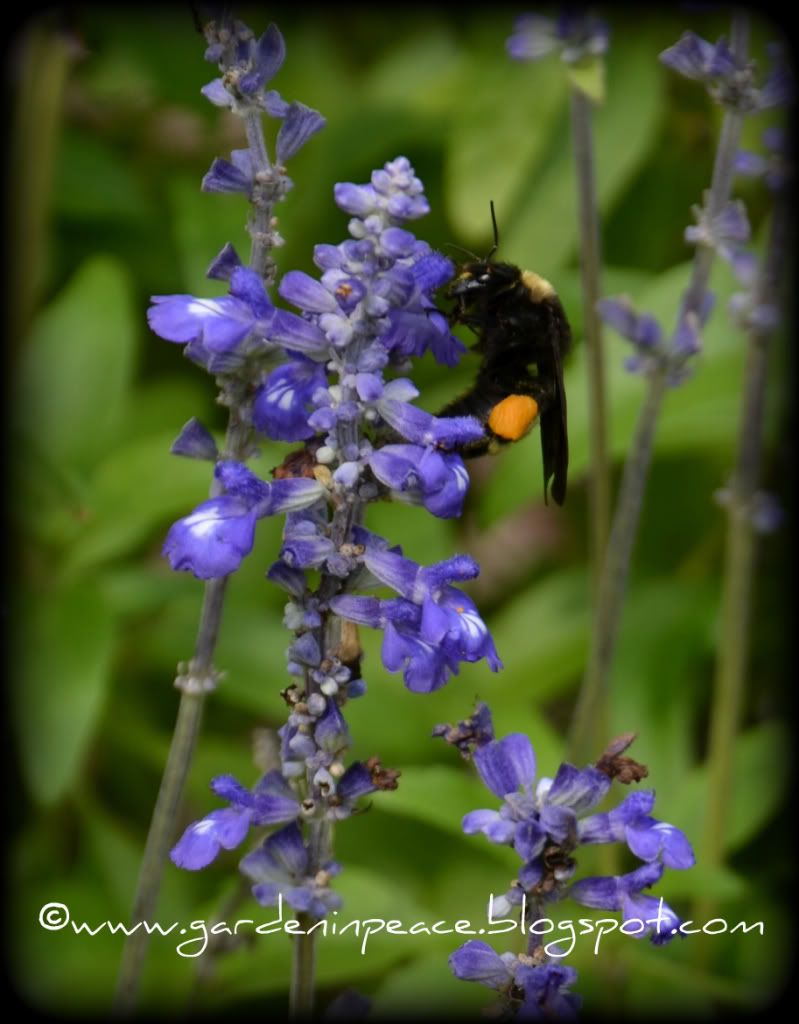 Bees hover around the blue beauties all day long. Can you blame them?
Oh, and this Gulf Fritillary also enjoys a taste. Not a great photo, but ya know, I just love the undersides of the Fritillary's wings! Aren't they beautiful?!! Like stained glass.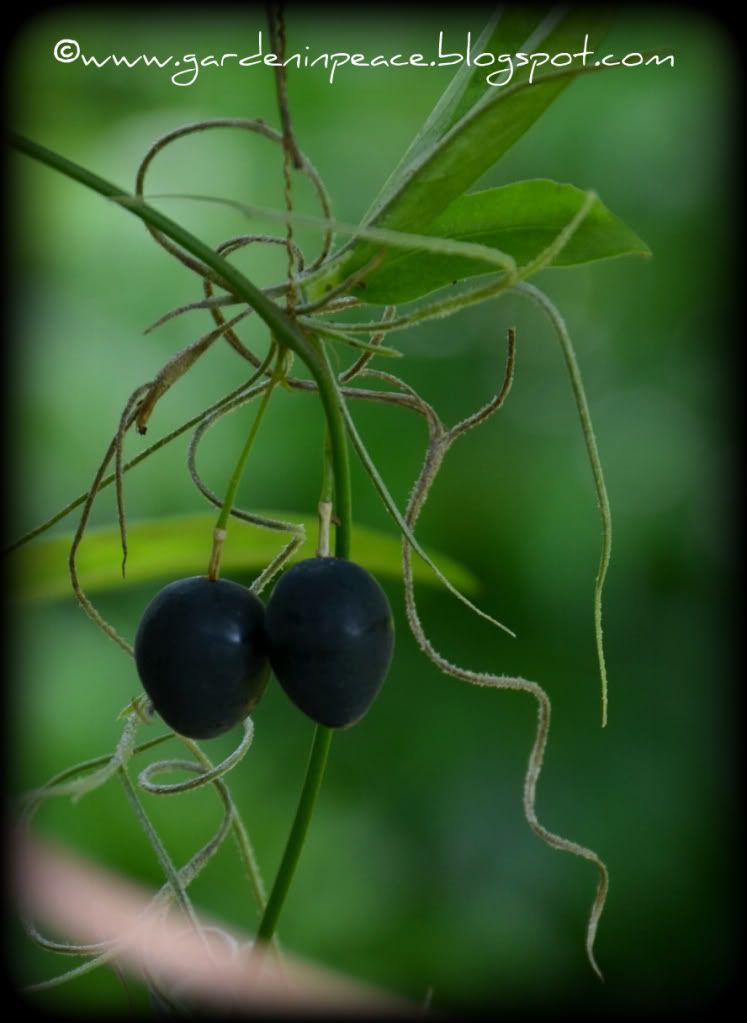 The Corkystem Passionvines are fruiting in the garden, providing food for the birds. But it is the passionvine's leaves that are adored by the Gulf Fritillary cats. That's the only reason I allow this weedy vine to clamor about in my garden.
Pictured above is a relatively new addition to my garden. I picked up this reed-stem orchid (Epidendrum radicans) at a local Farm & Feed store. It is a passalong sort of plant, which is my favorite type of plant of all, because I know it can't be killed. Of course, as I've watched it spreading itself about in the surrounding soil the past couple of months, it does make me wonder if it will become a problem someday.....
All text and images in this post were created for a blog called "Peace in the Valley"
All material on this website belongs to Floridagirl, unless otherwise noted.