So I've been away from the blog for a while.....
But that ol' camera has still been in my hands. I am a bit upset that I will not have this record of my late spring garden, but that's life. Anyway, here are a few shots of the lovely blooms gracing my garden right now: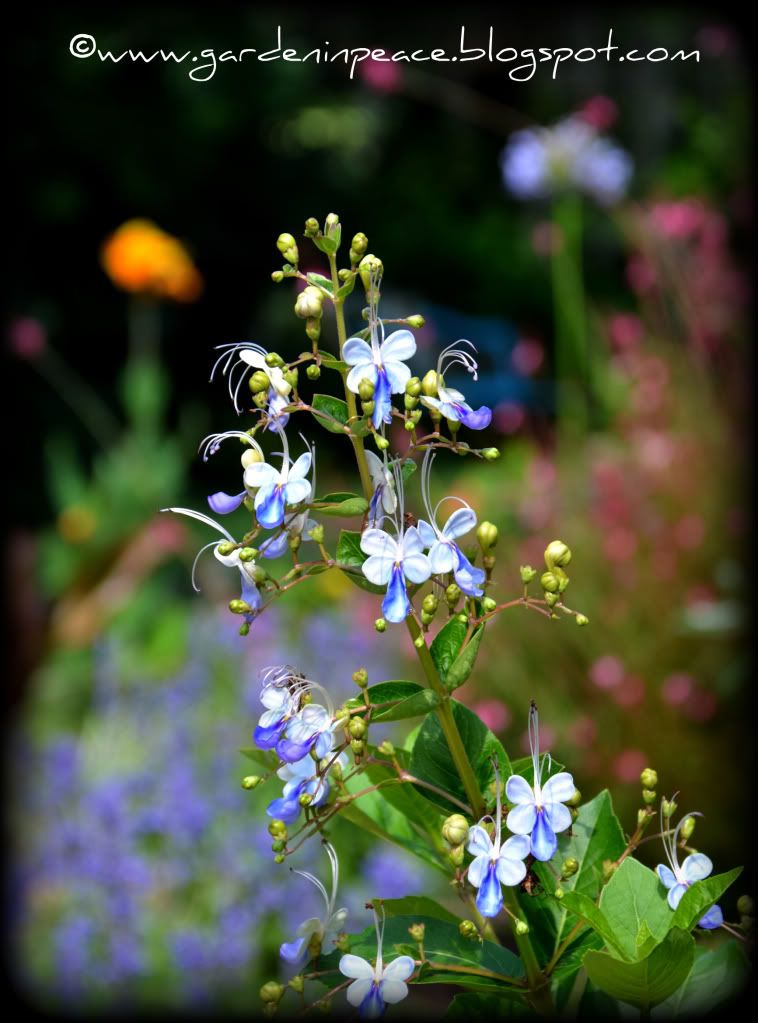 Blue Butterfly (Clerodendrum ugandense) is fluttering in the sunny border again, having returned very quickly from the winter assault. Indeed, the shrub is taller than me already...and wider too. Oh, can you see that blurry blue bench of infamy in the background? I like to peek through the clerodendrum branches and pretend the blue bench actually blends into the garden seamlessly. What do you think? A little blue butterfly, a scattering of blue salvia, and a spiky agapanthus ball....Looks like a stream of blue to me. But alas, it is only an illusion. For that blue bench of infamy rests much farther into the background than it appears.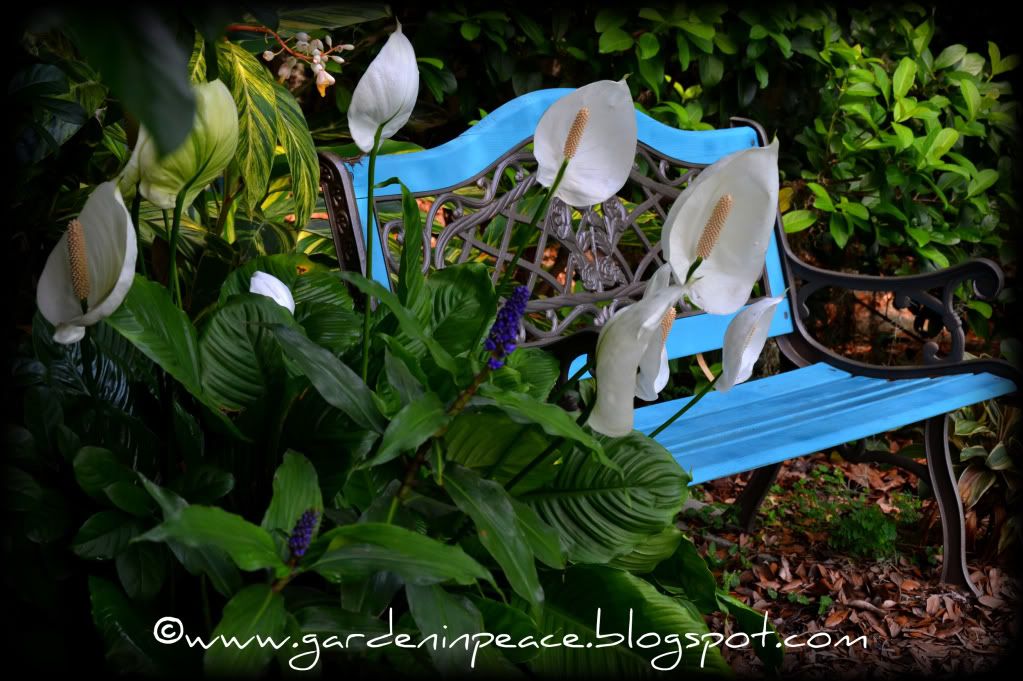 Yep, that blue bench resides far from the blues of the butterfly garden. But check out the giant peace lily right next to it. I have a penchant for placing peace lilies next to my seating areas. Just seems so restful to me.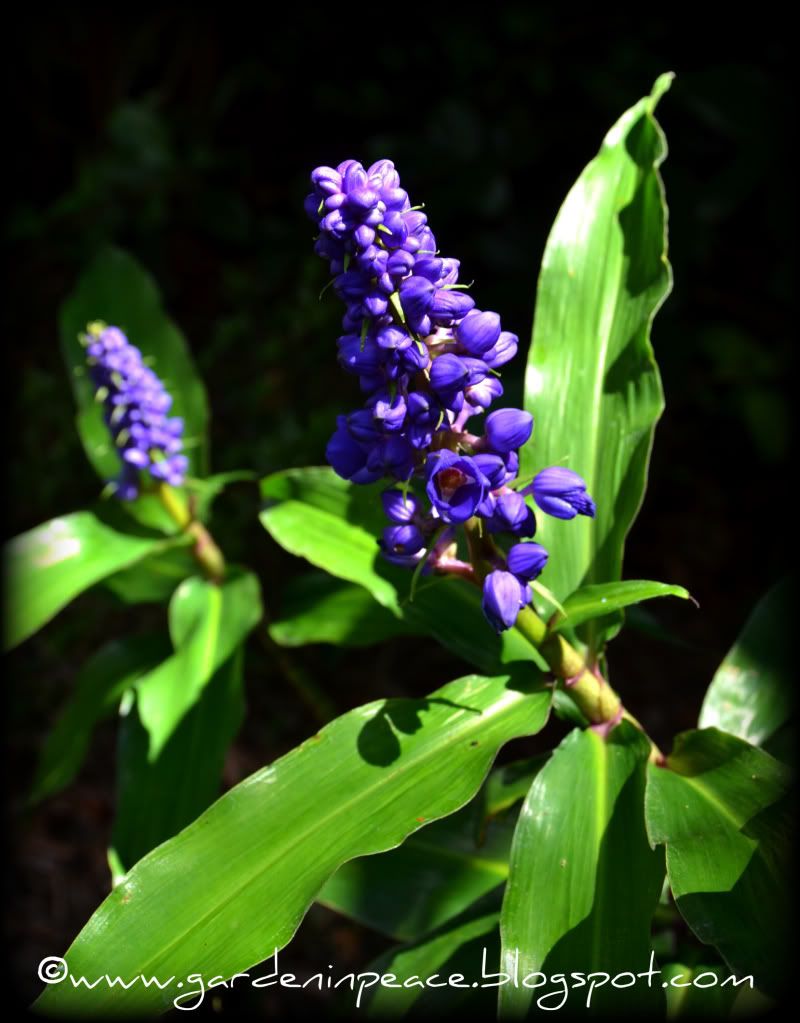 Oh, and check this out! The false blue ginger I bought from Bok Tower's nursery is blooming for the first time in my garden. : ))))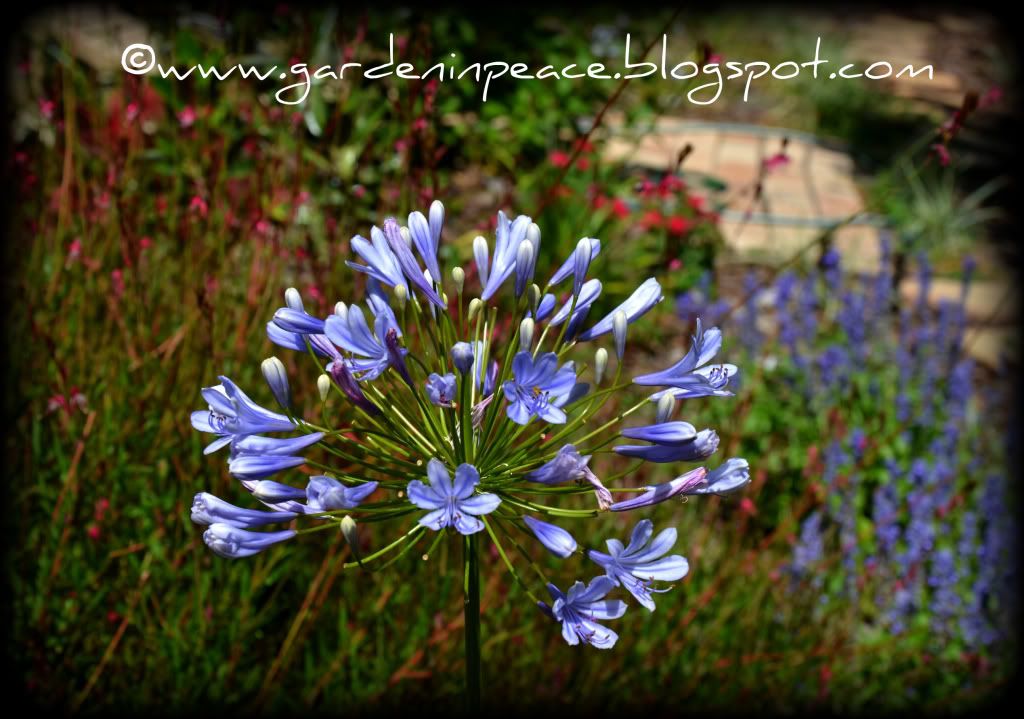 While we're on the subject of Blue, there are a few bloom scapes still remaining on the Agapanthus this month. I didn't post anything in May, but if I had been blogging, the readers of PITV would've been deluged with photos of these blue beauties.
The daylilies are still puttin' on a show here at PITV. I have some that do their thing in April, some in May, and a few that wait until June to send up their scapes. Some of them even rebloom for me, bless their hearts. Keeps a nice show goin' for a good three months. The one pictured above is nameless, as it was a passalong. I love it...just because it's so huge....bigger than my hand, actually.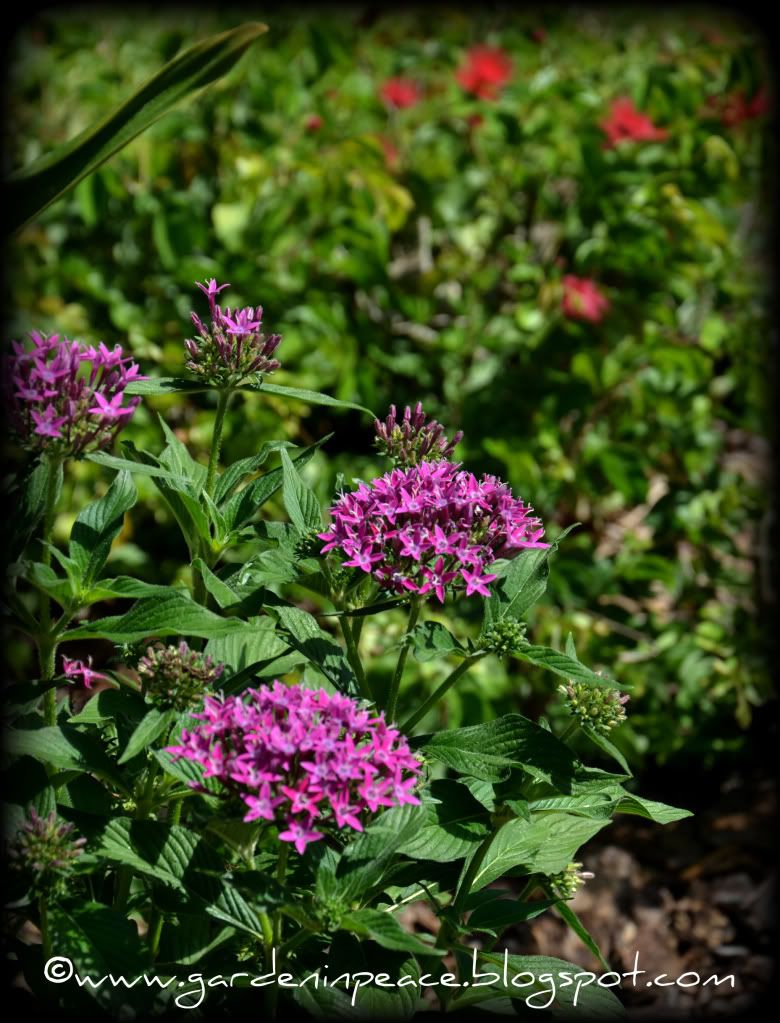 What would a butterfly border be without Pentas?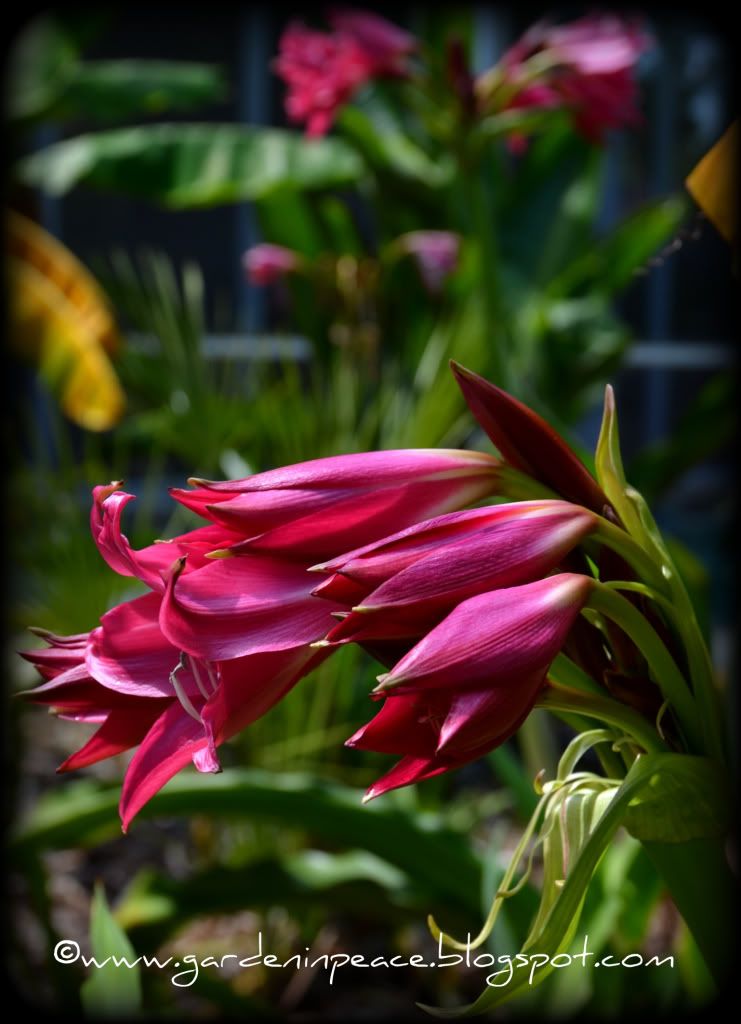 So glad the 'Ellen Bosanquet' Crinums are bloomin' again. I have heaps of these, and it is sad to see them turned to mush in winter.
Whew...is that bright enough for you? I'm always afraid of causing someone eye damage when I include a pic of this brilliant canna, also a passalong, in a post. Yes, it really is that shade of electric orange!
These shots were all taken in the
Southside Garden
, which is also known to me as the
Butterfly Border
, and where it's as
HOT as the Dickens
. No kidding. I'm not gonna sugarcoat it. It's hot as blazes over there, even with the haphazard spotting of a few large crapes and my golden tab. Honestly, it is the stretch of garden I avoid between 10 a.m. and 6 p.m., if at all possible. I still love the spot and can always view it from the safety of the pool lanai or the family room windows. I think the butterflies actually love this space
because
it is so absurdly sunshiny. I certainly see a lot more critter action over here than on the shady Northside.
Anyway, we'll catch up soon with that Northside Garden...Oh, I've done a lot of work over there these past couple months! Finally digging up grass and makin' my garden bigger. Woohoo! Oh, and there's the Front Garden and the Back Garden...so very much to catch up on. I feel so far behind!
All text and images in this post were created for a blog called "Peace in the Valley" @
www.gardeninpeace.blogspot.com
and are copyright protected. All material on this website belongs to Floridagirl, unless otherwise noted.