So what do dynamite, a graceful lady, and a passel of varmints have in common?
They all call my garden home!
DY-NO-MITE!!!
The 'Dynamite' Crape Myrtle has finally broken bud. It is one of the few true reds out there in the world of Crape Myrtles. I planted 'Dynamite' last summer. It was quite tiny, as I had to opt for the cheapest size, but oh my, how it's grown this past year! Already over five feet tall! Di-no-mite!
The Graceful Lady
For many years, this spot along the shady western property line sat empty. I'd been planning for a Lady Palm or a Hardy Bamboo Palm to fill the space...planning it for many years actually. Wow, I am patient! Problem was that every time I ran into one (which wasn't very often), they were priced at $50 to $60. Goodness knows I blow that much on this garden just about every month, but I couldn't warrant blowing it all on one plant. Well, I am happy to report that I finally found a reasonably priced Lady Palm a couple months back. And here she sits, perfectly content in her new home. She's not very big, and the nursery owner warned me that she wouldn't grow very quickly. That's just fine with me; there is a giant oak branch hovering about 10 feet above the spot, so we are in no hurry to gain height. The slow-growing-ness explains why they are always so pricy. Isn't she a beauty, though? I love the shape of the leaves...very different from most palms...very graceful. And the glossy, brilliant green gives the perfect tropical foil to this space.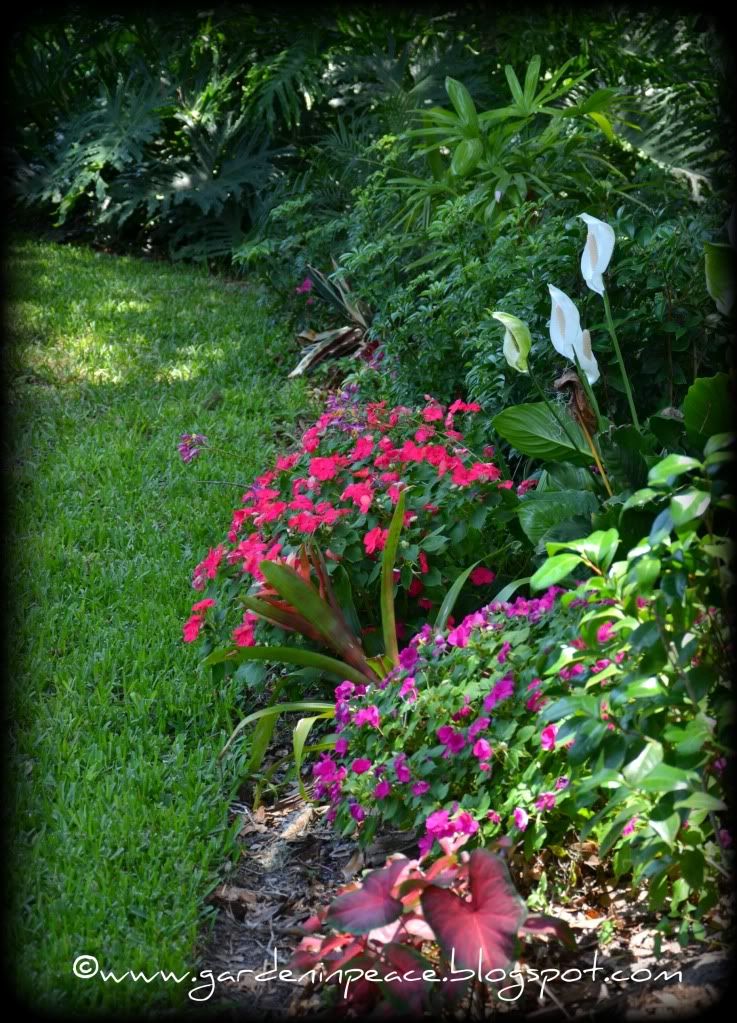 Here is a view of the middle section of that property line. Can you see the Lady Palm peeping up between two arboricolas? And do you see the impatiens? These impatiens really like their spot. They are the first true successes I've had at growing impatiens in this garden, along with a couple growing directly across from them on the other side of that grassy path. My garden is, for the most part, just too sunny, hot, and dry for growing impatiens. So glad I've found a spot where they work. ☺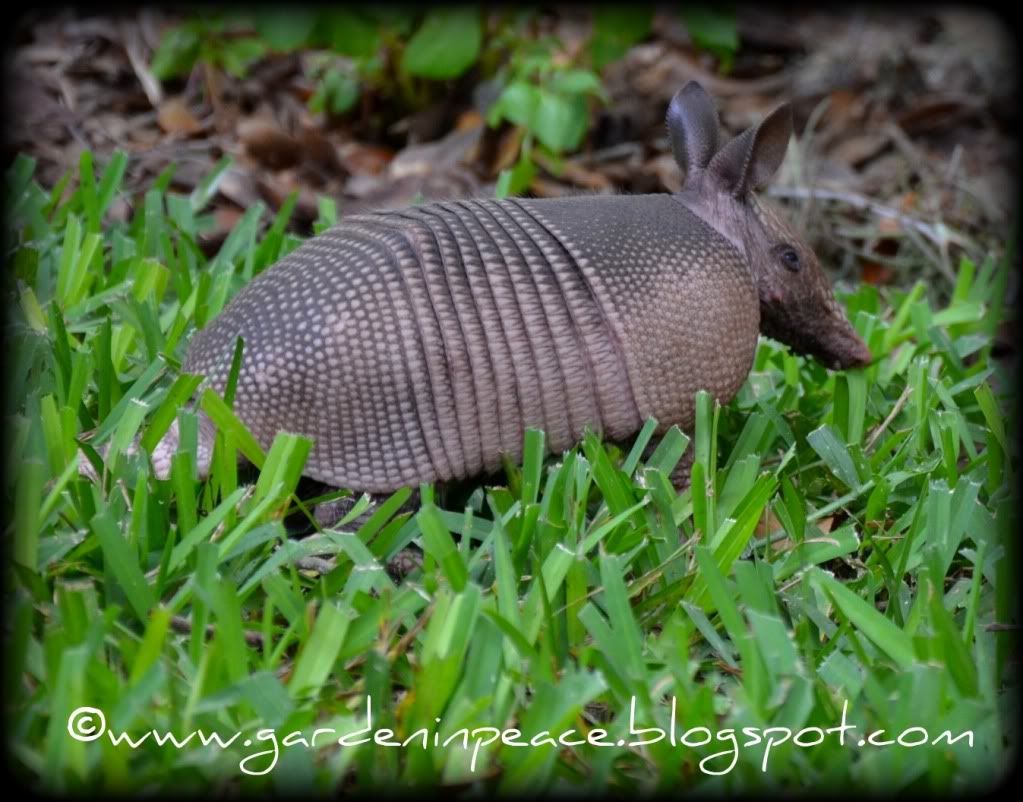 Here is the scourge of my garden these days. We are absolutely
drowning
in armadillos. I see them wandering around in search of food
every single day.
They are certainly not afraid of me, as they continue about their business while I am two feet away, in plain sight. Wait, I believe they do have poor eyesight, but they should be able to hear or smell me regardless. Occasionally, they do turn my direction, stand on their hind legs like a meerkat, and just study me for a minute or two. Then back to business. I just don't know how I should feel about these little beasties. They really are as cute as a button. And they do have some benefits. They dig little holes everywhere, which is great aeration, and I am sure they are eating a good number of the pesky critters that live in our soil.
But what I
do not like
is the way they keep digging up shallow-rooted plants. I am constantly having to replant bromeliads, daylilies, gingers, blood lilies, etc., etc., that they have uprooted. And they make a mess of the neatly laid mulch and are constantly covering the stepping stones with mulch and soil. They really like to dig around those stepping stones. Ugh. Worst of all are the enormous burrows they build....right under the foundation of the house!!! I really am not sure what to do about these varmints. We've known armadillos were present for about 4 years, and we kinda just tolerated them. But there has been a recent population explosion, as we have never seen them in these numbers before. Should we call an exterminator? Have you ever dealt with an armadillo infestation? Maybe some real dynamite would be handy right now.
All text and images in this post were created for a blog called "Peace in the Valley" @
All material on this website belongs to Floridagirl, unless otherwise noted.