Woohoo!
We got our first rain in ages yesterday afternoon! It lasted all of about 5 minutes, but a little rain is better than no rain at all. Hope it's a sign of wetter things to come.
Here are a few shots of my northside garden, a cool respite in our wickedly hot Florida summers. The area is shaded by a huge old grandfather oak with spreading branches that are the size of tree trunks in their own right. Just out of reach of those branches grows a decent-sized magnolia, spreading that shade on down the sideyard. Both of these trees are located on the lotline, so my garden only gets half the shade it could be getting. : /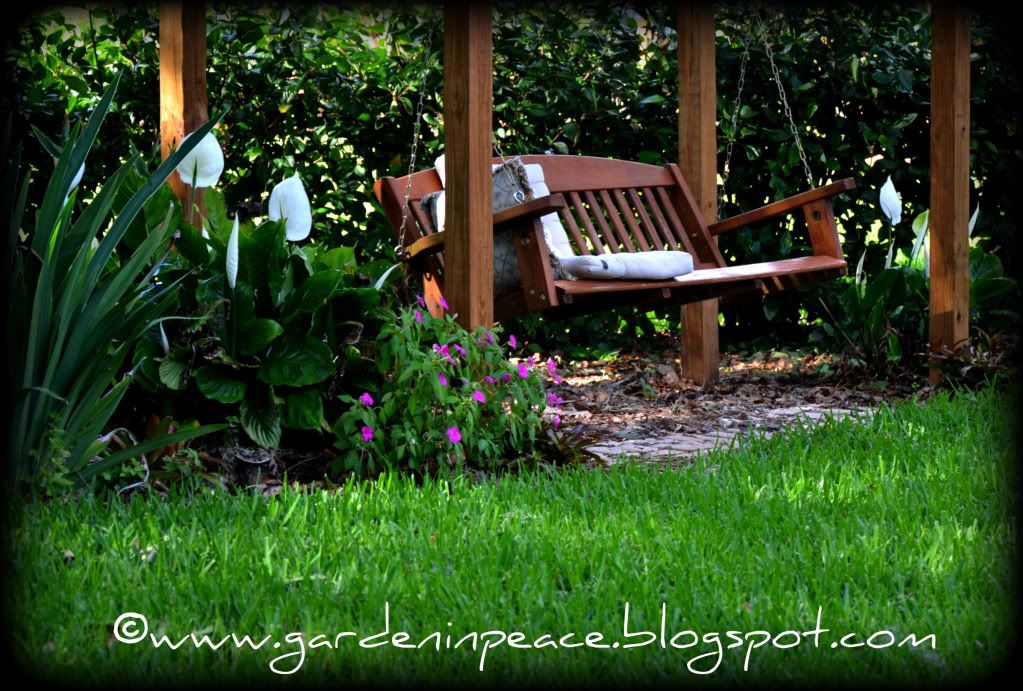 My favorite sittin' spot...
just because it's so cool and breezy in that corner. Plus, I get a nice view of what I call my "Rainforest Garden" from that seat.
Now, here's the exciting part. We have started extending the Northside garden! The Northside of our house is a narrow, 25-foot-wide strip between house wall and lot line. Though that sounds pretty slim, it is actually bigger than our backyard....and certainly big enough to build a garden. I've been wanting to plant over here for years, but we've been gradually working our way around the lot...much more slowly than originally planned. This is the last bit of virgin land left here at PITV. The photo above shows the new
pink tab tree
we planted a couple months ago. The shade of the old oak and magnolia do not reach this far, so we need something to shelter the new sittin' spot we'll add someday. The photo shows a pretty sunny face, but this only occurs in the morning. By noon, that back corner is drenched in shade.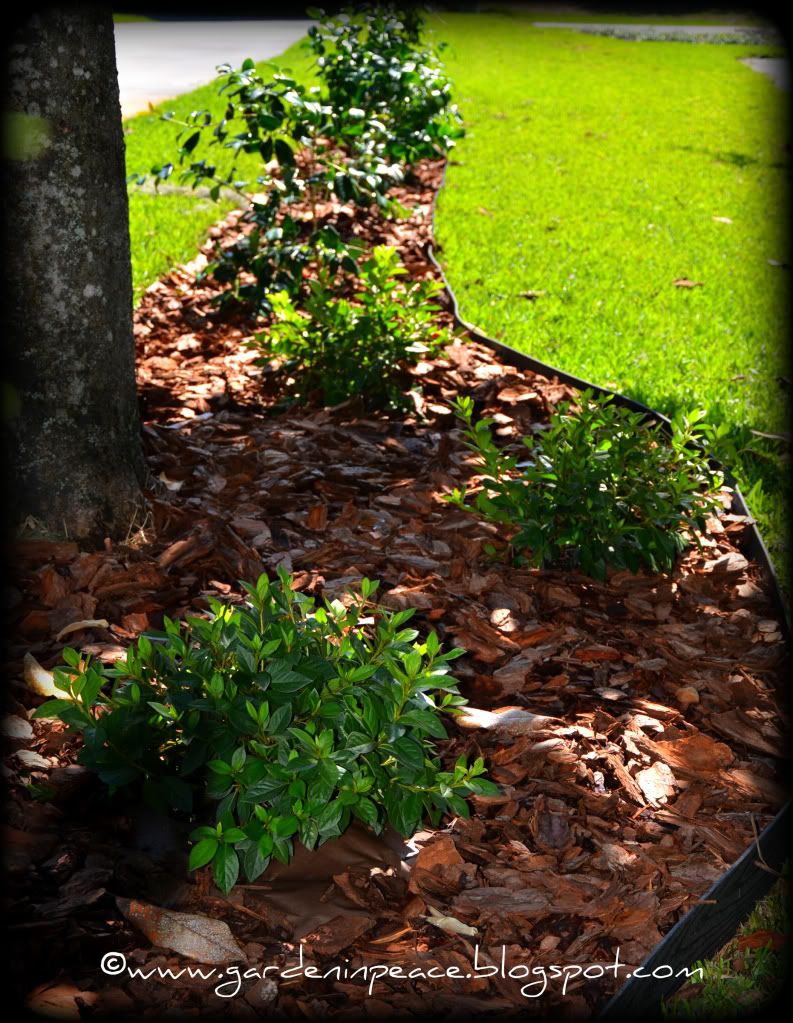 Here's what we've done around the old magnolia. Right around the tree trunk we have placed three new
Lavender Formosa azaleas
. ♥♥♥ This has doubled the number of these plants in my garden. Just beyond the azaleas are three
Japanese camellias
and six
Sadankwa viburnums
. This is an exact mirror of the hedge *behind* the camera. Not original choices, but symmetrical at least. Not that symmetry matters at all in this situation; we simply want a green wall. Since the oak and magnolia are right at the lot line, we cannot construct a fence. Fences are nice, and I actually desperately want one, but the trees are just a bit more valuable to me. The driveway you see on the left is the neighbor's, so you can see why this piece of our lot has never felt very private. My sister came over a couple weeks ago and was shocked when she saw the hedge strip we had added. She said she thought that bit of land was the neighbor's! That was illogical to my brain, as we already had a good 30+ feet of hedge further back, that has been there for four years. Wouldn't it make sense that the line continues to the road? But, alas, I can understand the illusion, as I feel more often than not that it is not my property. The neighbors installed their driveway just one foot from the property line....for a side-entry garage. I think, in most of our minds, we don't think of a driveway being right next to the line, so we assume a chunk of the land beyond it must be attached to that driveway. Ugh. Honestly, I'm really not cut out for neighborhood life at all. Give me three or four acres, please! Anyway, you will notice the extremely skinny strip of sod we have removed for this project...just enough to plug in the plants. Ya know, I realize that the plants will outgrow that strip quickly, and I have left no room at all for planting in front of the hedge, but have you ever dug out St. Augustine sod?!!! That is some
backbreaking
work! Hours it took to remove just this much, and turns out it's barely wide enough to install the plants. Later, of course, I will utilize newspapers and cardboard boxes, along with topsoil and mulch, to kill the grass the
*easy*
way and create a flowing bedline. Plants will be added by divisions from the lovely nursery stock I already have growing in the garden.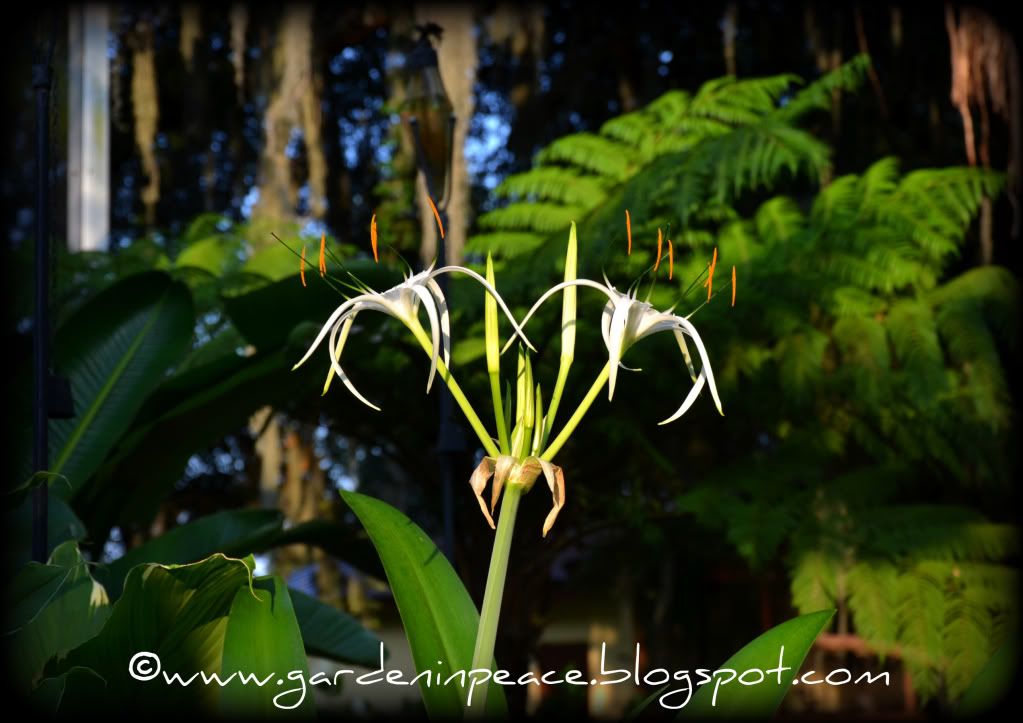 The older beds further back, of course, are already stuffed to the brim. And look what has been putting on a show in my garden! Oh, how I love the blooming of our
native spider lilies
!!! ♥ Giant. Exotic. Exactly NOT what I'd expect from a native. And is there anything more beautiful than an easy and carefree plant? My mother gave me a division of this plant years ago, and this year, I decided it was big enough to divide. I kept one division for myself and took one up to Six Acres (Son #1's property). The very next day, which just happened to be Mother's Day, Son #1 and DIL gifted me with two spider lilies bought at a nursery...big clumps too.
Awesome!
And the Spider Lily saga continues to grow. Last year, I pulled up a couple of bulbs I found on Six Acres when clearing land. I planted them next to the Six Acres pool, noting with my well-trained horticultural eye that they were amaryllis and what a lucky find I had found! Could it be that someone had planted a garden on this property in the past? Anyway, a couple of weeks ago, I was looking at one of the plants, and it was clearly NOT an amaryllis! At least not the Hippeastrum sort. It seemed to be forming a small "trunk" and had many thick, luscious leaves. Hmmm.... It looks an awful lot like a spider lily! Too funny. ☺ This plant I coveted and begged off my mom, nurtured, divided, and gifted so generously to my DIL, is growing on their property wild!!! Ooh, it makes me wanna go clear more land. We really can't have too many spider lilies...definitely belongs on my
top ten plant list
!
And here's another from that top ten list...
Caladiums
have popped up all over the Northside, filling in those dreadful winter holes.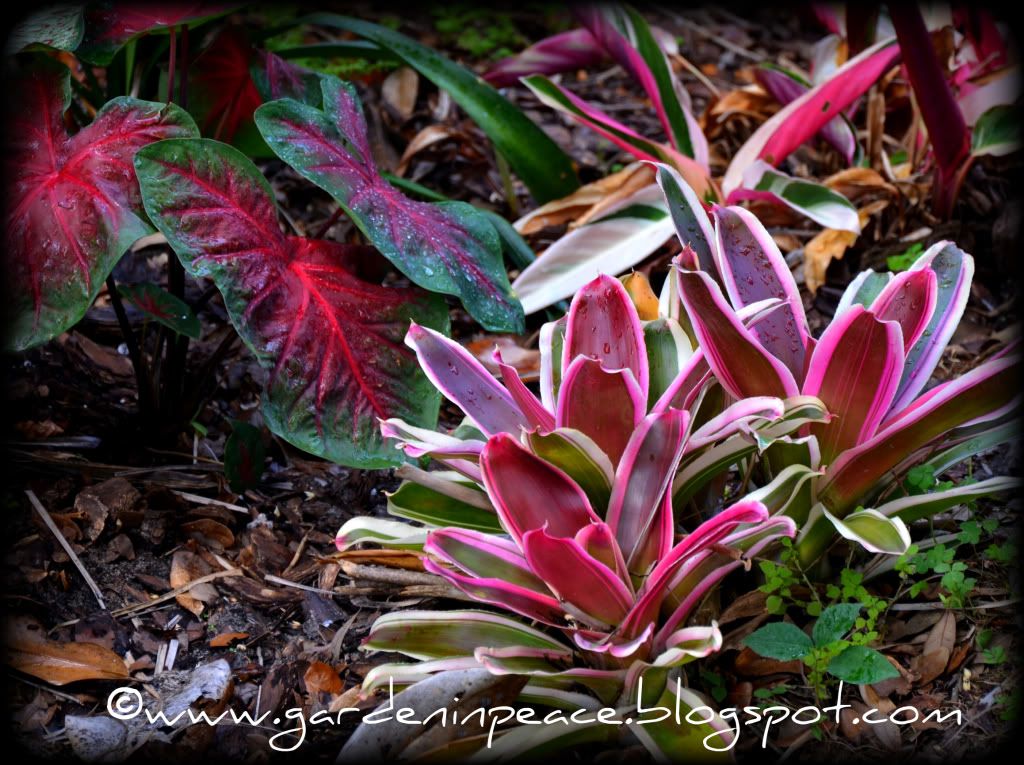 Fortunately, the
Bromeliads
give us
evergreen
-ness in the Rainforest Garden during bad winters, but we also have a lot of caladiums and gingers, which go dormant, as well as tender plants that get burned, like the cordylines and bird of paradise.
One of my favorite Neos...
'Lila'
...in brilliant, electric, pupping color. Who says hot colors can't work in the cool shade?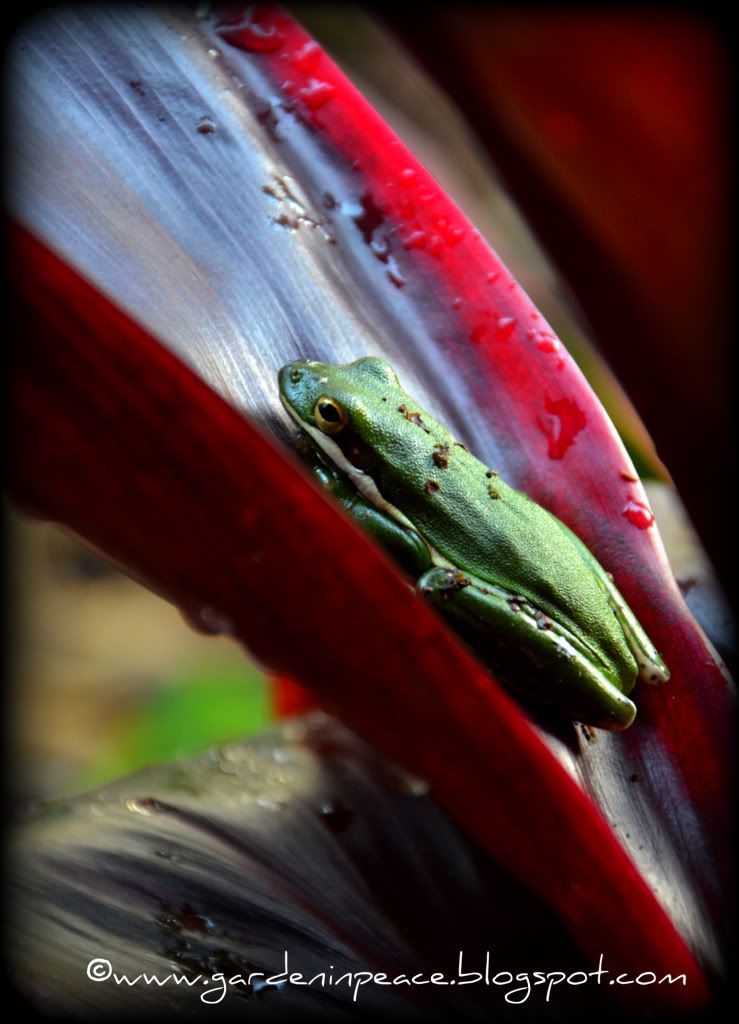 Check out this
green tree frog
I saw taking advantage of the cool shade after a quick rainshower.
Doesn't he look stunning contrasted with the deep red of the 'Ruby' Ti Plant?!!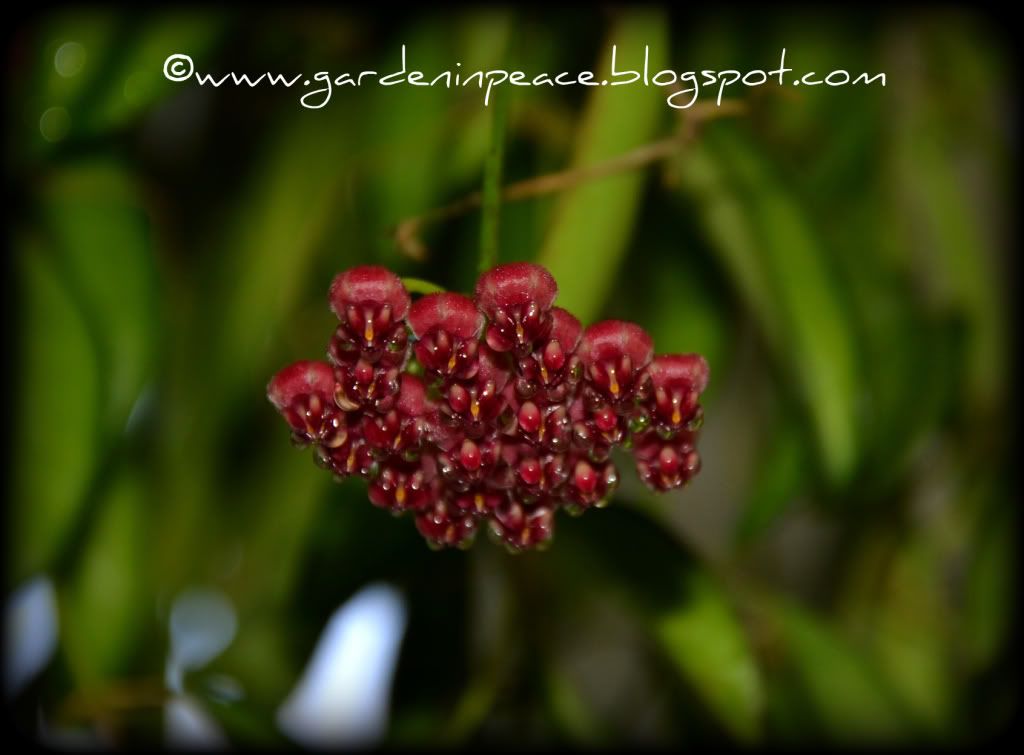 Relaxing in the Orchid Room, a nice cool spot I enjoy wasting time in, I captured a shot of the miniature Hoya. It has an interesting, spicy smell, though Husband does not find it appealing. This Hoya, which I bought last year, has been blooming for over a month, and it is still putting out buds. My Orchid Room just might have to be renamed some day, as I've been slowly filling it with the likes of Hoyas, Christmas Cacti, Lipstick Plants, and Oxypetalums.
All text and images in this post were created for a blog called "Peace in the Valley"