Crape Myrtle in a haunting winter scene.
PITV was born on a crisp winter day the first week of 2010. Couldn't have been a worse time, as that day introduced a two-month freezing spree in my neck of the woods. The handful of readers I had those first few months would have to hear me whine and complain and groan and moan about the tan mess my garden had become. Oh, why couldn't I have thought to start a blog back in those days when hibiscus and allamandas bloomed all winter?
Bless the carrots (and cabbages and radishes) that just kept growin' in the cold.
My very first post was indeed a gripe-fest about the ominous forecast and what plants were likely to suffer. That blogpost sat there...out there on the worldwide web for all the people on Earth to see. A full day later, a Florida gardener posted the first comment on PITV. And then--bless her heart!!--she posted comment #2 just a few hours later.
Quesnelia testudo lights up the winter garden in Florida, even in the cold.
Fortunately, my garden kept throwing me a few bones even amidst the winter carnage. Speaking of bone-throwing, three new Florida bloggers left comments on a PITV post just a couple days later. The blog now had a handful of readers. My weather griping would continue for quite some time, but I was having fun discovering and reading other folks' blogs. I learned about comments and following and reciprocity. Next thing I knew, I was getting comments from readers all around the world. What a Pandora's Box I had opened!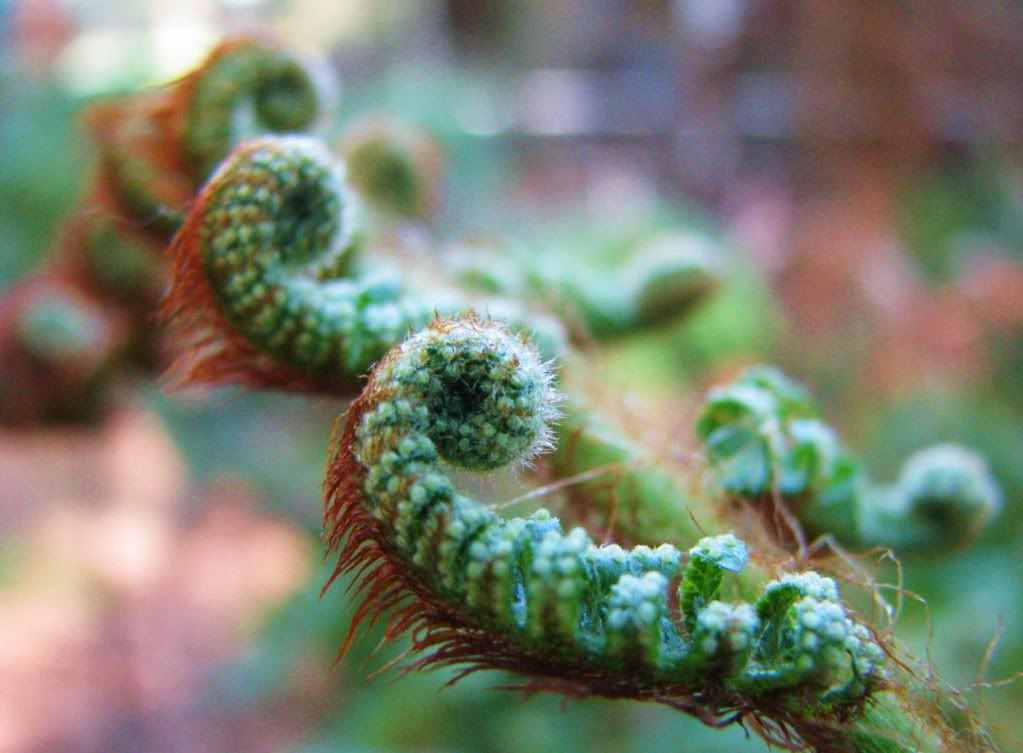 The unfurling fiddleheads of a tree fern are recurring subjects of my photography.
And talk about opening that can of worms! Thanks to the birth of this blog, I've seen my lifelong interest in photography develop into a (possibly clinical) garden-photo obsession.
A Spiny Orb Weaver is always a fascinating sight in the garden.
Yes, I can now be seen walking around the dew-soaked yard in my PJ's and flip-flops every morning, camera in hand. The neighbors surely think there is a mental health issue in the works. No, neighbor, I'm not taking photos of that piece of mulch. There's a cute spider down there, and I have to squat like this to zoom in and get the best angle.
Of course you run for the camera when you see one of these beauts.
You have to admit, neighbor, that flowers are fascinating creatures, and the insect sort are just curioser and curioser. Why aren't you out here searching with me?
What a privilege to witness the magnificence of nature!
Oh, and neighbors, this is why I got that ladder out on the porch and dangled the camera precariously over the light fixture last spring. Lunatic? I think not.
No rules...Just cut. Isn't the MGB meme fun?
Yes, and there's a reason I walk around outdoors with those giant scissors too. And then scurry back quickly, over and over, to that water-filled vase, before the heat melts the trimmed treasure away. It is garden blogging that has inspired me to cut more flowers. It seems fellow garden addicts can appreciate that freshly cut, crazy mix of bold blooms that just might shock a nongardener's eyeballs right out of the sockets.
The peace and serenity of swanwatching, something easy to do on several area lakes.
Rather than lunacy, I feel that this garden-blogging thing has brought a sense of peace to my life. We all need an outlet (or two), right? Life gets hectic, ya know. When it's busy, moments fly by, and it's hard for me to take it all in. This has been one of those weeks, and next week will be even busier (another family wedding takin' place).
Tropical Hibiscus...a symbol of my garden and a feast for the eyes.
Regardless of where I am or what I have going on, it is this garden in the valley that my mind and body eventually wander back to. A tiny, humble place it is, by all accounts, but it's where I want to be.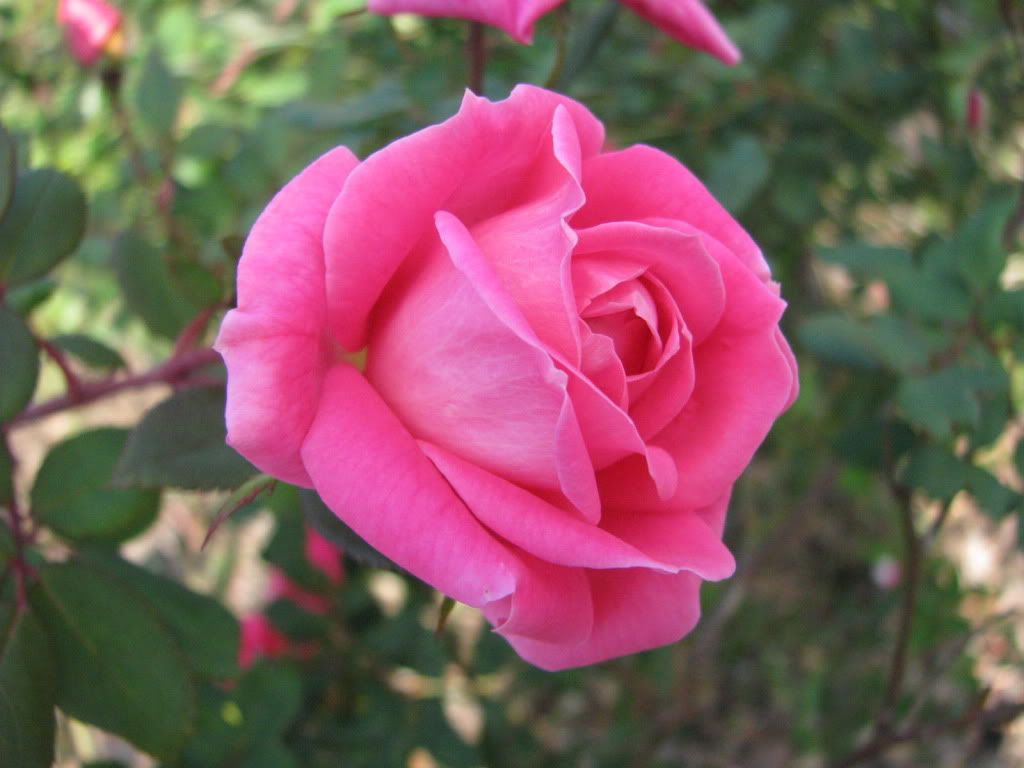 Thank you
to all who regularly visit PITV and indulge this looney gardener in chat about my very special place.
May tranquility always find you in your garden.